Isaac Hayes @ Celebrate Brooklyn - June 12, 2008 (more by Kyle Dean Reinford)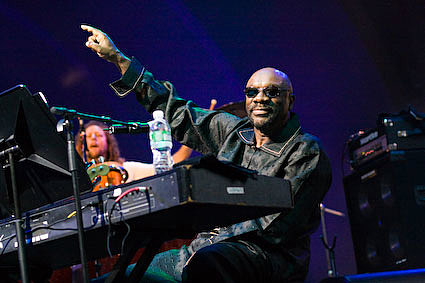 Soul legend Isaac Hayes, who won Grammy and Academy awards for the theme to the 1971 film ``Shaft'' and voiced the character ``Chef'' in the hit comedy series ``South Park,'' died Sunday in Memphis, Tennessee. He was 65.

Family members found Hayes laying unconscious next to a running treadmill in his basement around 1 p.m. local time, said Steve Shular, a spokesman for the Shelby County Sheriff's Office in a telephone interview. Hayes was pronounced dead at Baptist East Hospital. No autopsy is planned, Shular said. [Bloomberg]
Bernie Mac died only one day earlier. Sad and weird. Weird because Bernie and Isaac just made a movie together called Soul Men..
Soul music icon Isaac Hayes will play himself in a music comedy starring Samuel L. Jackson and Bernie Mac. "Soul Men" revolves around two former bandmates (Jackson, Mac) who reunite when a third member (played by John Legend) dies....
IMDB adds that the reunion performance takes place at the Apollo Theater. The movie release date is November 14, 2008.
Isaac Hayes & Bernie Mac, RIP.
Pictures and a review of Isaac's very recent show in Prospect Park in Brooklyn, HERE.