It's Not Selling Out Anymore — This Week in Music Licensing
Gogol Bordello @ Irving Plaza (more by Jefferson)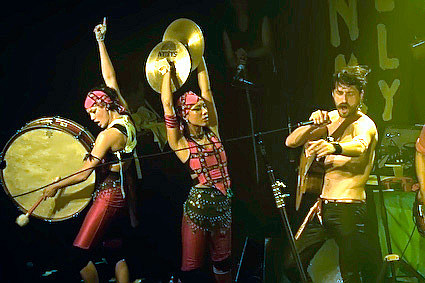 Aggressive racing game, Motorstorm, was one of the most successful titles for the Playstation 3 in 2007 (selling over three million copies world wide). It was only natural then, that Sony Computer Entertainment would get a sequel out in 2008. Enter Motorstorm: Pacific Rift. The game recently hit shelves in the US at end of October and in the UK this past week. The TV spot announcing the new game brilliantly matched Motorstorm's crazy, edgy style of racing on tracks in exotic locations with the "authentic energy" of Gogol Bordello's "Wonderlust King." Watch the video of the commercial below. Gogol Bordello tour dates are HERE.
While Gogol did not make the in-game soundrack, David Bowie, Clutch, Megadeth, The Hives, Simian Mobile Disco, Death From Above 1979, and more all made the cut. Eight of the forty-five songs are exclusive to the game including a remix by Diplo of Nirvana's "Swap Meet" *.
Speaking of exclusives, The Ramones' classic jam "Sheena Is A Punk Rocker" was covered by Sonic Youth's Thurston Moore and singer Jemina Pearl (from the now defunct Be Your Own Pet). Their version exclusively premiered in this past week's episode of Gossip Girl. Love & Rockets made the episode too...though not as an exclusive.
Other Notable Licensing News:
On the tube, One Tree Hill had songs by Ra Ra Riot and Margot & the Nuclear So-So's; 90210 had Florence & The Machine, The Raconteurs, and The Bravery; Grey's Anatomy had The Bird And The Bee, Whitest Boy Alive, and Brett Dennon.
M83's "You, Appearing" provides a solemn background to a French commercial for Douleurs' "Pain Without Borders" commercial. Watch the video below. M83 is currently on a tour of the US (and in NYC this week).
Cadbury's new "Favourites" commercial features the song "Stars and Sons" by Canadian supergroup Broken Social Scene. Watch the video below. Pics from the band's recent show at the Brooklyn Masonic Temple can be seen HERE.
Vans recently released its fourth Iron Maiden tribute shoe, this time featuring the artwork from the Powerslave album. The Sk8-Hi and slip on models are available at the vans online store as well as local distributors.
Videos below...

Motorstorm: Pacific Rift Commercial with Gogol Bordello:

Douleurs Sans Frontières 2008 with M83

Cadbury Favourites w/ Broken Social Scene

* full disclosure: we'll use this asterisk week after week to note if the company Ryan works with during the day represents any of the artists mentioned in the post. Nirvana is one of them.