J Mascis, Thurston Moore, Lee Ranaldo, Nels Cline & friends @ Fender's 50th anniversary @ KF, NYC – pics
"There was really nothing to complain about if your expectations were correct when you got there. Verlaine did the same boring crap he has been doing for 10 years. The SY set could have been longer and contained at least SOME melody. Their set was the only disappointed of the night. Nels set was great, but only because of the pairing with Norton Wisdom. Very nice. J ripped it like always, he was never one to noodle. Dave Schools of Widespread Panic ripped it up on bass." [Anonymous 1]

vs.

"wtf that review is just WRONG. It was cool and fun to see all these guys doing their Jazzmaster thing. Lee and Moore's set disappointing I don't think anyone there would agree with that. Mascis was more disappointing after setting up 3 huge stacks of amps on stage to get just an ok sound out of all that. Nels Cline nothing without the painter? come on man, get off your ass and listen." [Anonymous 2]
More picture from Friday's Fender party at Knitting Factory, below...


The Fender Jazzmaster is an electric guitar that was first introduced at the 1958 NAMM Show and was designed as a more upmarket instrument than the Fender Stratocaster, which was originally to replace the Telecaster model. As its name indicates, it was initially marketed at jazz guitarists but was more commonly played by surf rock guitarists in the early 1960s and, more recently, by alternative rock artists. [Wikipedia]
Tom Verlaine & Jimmy Rip...
Thurston Moore and Lee Ranaldo...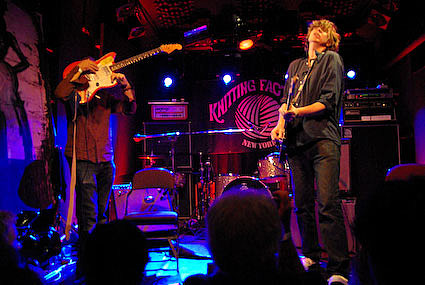 Nels Cline w/ Norton Wisdom (painter)...
J Mascis & Dave Schools...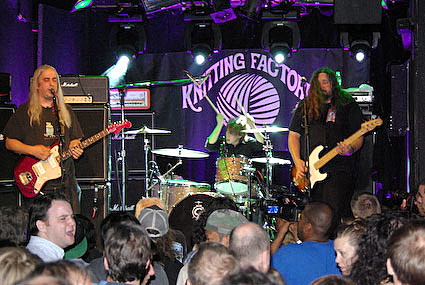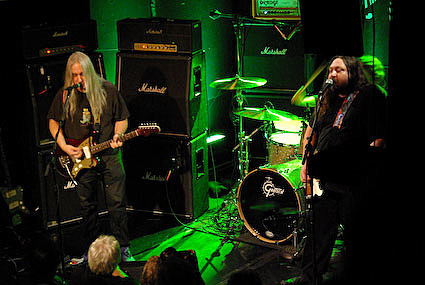 Available beginning in July 2007, the J Mascis Jazzmaster is literally a sparkling new addition to the Fender lineup, in celebration of the adventurous and continuing sonic contributions of the man who has been the model's constant champion for nearly 25 years now.