Kirin J Callinan & Donny Benet playing free show tonight before Jack Ladder's NYC show (SXSW pics & tix giveaway)
Jack Ladder & The Dreamlanders @ BVSXSW 2015

Australian group Jack Ladder & the Dreamlanders just played a bunch of shows at SXSW, including the BrooklynVegan day party on Saturday (3/21). Seeing them live, Jack's bravado-filled voice fits his very tall frame well, and the band rose to the challenge of the noon opening slot well. Pictures from their performance at our show are in this post. If you haven't checked out Jack's album, Playmates, it's the kind of neon-reflected-on-rainy-streets synthnoir that might've fit in on Miami Vice or Less Than Zero. You can stream it below.
Kirin & Donny in "The Edge" video

Meanwhile, Kirin is playing a free show tonight (3/25) at Baby's All Right. He'll be doing two sets: one solo, and one as a duo with Dreamlanders bassist and solo artist in his own right, Donny Benet and "there may even be a surprise performance from another associated act." Again, it's free and anything with Kirin J Callinan is pretty much guaranteed not to be boring. Is Connan Mockasin in town?
You can watch a video of Kirin and Donny performing "The Edge" (which is something to behold) below. That is from Donny's album, Weekend at Donny's which is more synthy '80s style eclecticism. In addition to Kirin, features guest lead vocals from Jack Ladder, The Preatures' Isabella Manfredi, Crayon Fields singer Geoffrey O'Connor, and other offbeat Australian indie luminaries. You can stream that below too.

---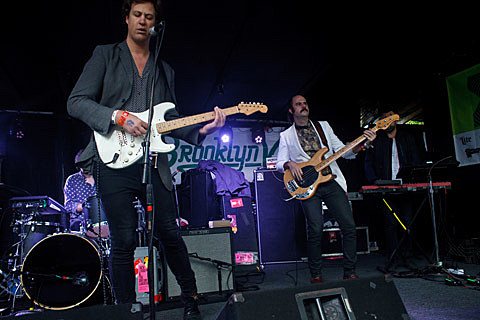 ======================
For a chance at winning a pair of tickets to see JACK LADDER & THE DREAMLANDERS at ROUGH TRADE: either tweet something that includes both @BrooklynVegan AND "Jack Ladder at Rough Trade" in the tweet, or send an email to BVCONTESTS@HOTMAIL.COM with the subject line "Jack Ladder". Include your first and last name in the email. We'll pick a winner at random and contact them with more details. If you enter by email, it will not be shared with anyone else. Good luck!
======================
Donny Benet & Kirin J Callinan - The Edge