Jack White hit Roseland Ballroom again (night 2 pics & setlist)
photos by David Andrako
Jack White at Roseland Ballroom 5/22/12

Jack White played his second of two nights at Roseland Ballroom last night (5/22), again supported by Alabama Shakes. Unlike at his first Roseland show (pictures HERE), which was with his all-male band Los Buzzardos, last night's was with his all-female band, The Peacocks, though he was joined by Los Buzzardos for the encore.
Jack covered similar territory to night 1 with seven White Stripes songs, two Raconteurs tracks ("Carolina Drama" and "Top Yourself"), a Rome cut, and a Dead Weather track ("I Cut Like a Buffalo") in the encore. Like he did the night before, Jack finished off the evening with a pair of White Stripes songs, "Catch Hell Blues" and "Seven Nation Army".
If you missed Jack White live and the flesh, hopefully you caught the set on satellite radio.
More pictures and the setlist from last night's show below...

--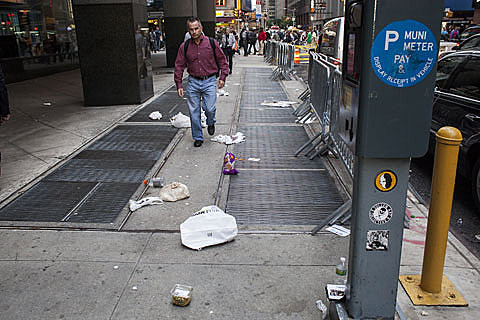 Alabama Shakes
Jack White
JACK WHITE, 5/22 SETLIST AT ROSELAND BALLROOM
Main set - w/ The Peacocks
Sixteen Saltines
Missing Pieces
Dead Leaves and the Dirty Ground - White Stripes
Love Interruption
Hotel Yorba - White Stripes
Weep Themselves To Sleep
I Guess I Should Go To Sleep
Top Yourself - The Raconteurs
Hypocritical Kiss
Unknown
Blue Blood Blues - The Dead Weather
We're Going To Be Friends - White Stripes
Two Against One - Rome
The Hardest Button To Button - White Stripes
Freedom At 21
Take Me With You When You Go
Carolina Drama - The Raconteurs
Ball and Biscuit - White Stripes
Encore w/ The Buzzardos (on the bleachers)
Black Math - White Stripes
I Cut Like A Buffalo - The Dead Weather
Catch Hell Blues - White Stripes
Seven Nation Army - White Stripes