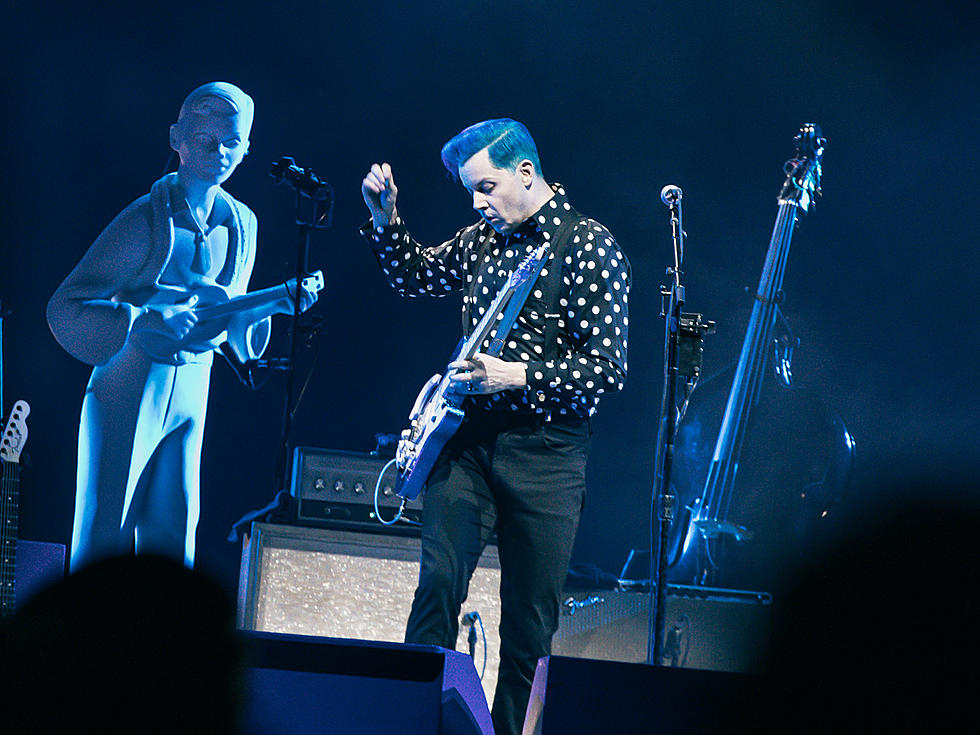 Jack White played Barclays Center with Be Your Own Pet (pics, setlist)
photo by P Squared
Jack White brought his Supply Chain Issues Tour to Brooklyn on Thursday (4/21) for a big show at Barclays Center and photos from the whole night by P Squared are in this post.
White's band has gotten a tiny bit smaller since his last tour, but they're also tighter -- drummer Daru Jones is just fantastic -- and Jack was ripping off guitar solo after guitar solo throughout the night. While he's out supporting new album Fear of the Dawn (and the soon-to-be-released Entering Heaven Alive), he played lots of stuff from throughout his career, including The White Stripes ("Dead Leaves and the Dirty Ground," "I Think I Smell a Rat," more), The Raconteurs ("You Don't Understand Me," "Steady, as She Goes"), The Dead Weather ("I Cut Like a Buffalo") and lots more. Check out the Barclays setlist below.
Opening the show was Be Your Own Pet, the '00s-era Nashville indie rock band who Jack got to reunite just for this tour. They played a warm-up show, their first in 14 years, at East Village club Heaven Can Wait the night before.
SETLIST: Jack White @ Barclays Center 4/21/2022 (via)
Taking Me Back
Fear of the Dawn
Dead Leaves and the Dirty Ground (The White Stripes)
I Think I Smell a Rat (The White Stripes)
Love Interruption
You Don't Understand Me (The Raconteurs)
Love Is Blindness (U2 cover)
Hi-De-Ho
High Ball Stepper
Black Math (The White Stripes)
The Same Boy You've Always Known (The White Stripes)
Love Is Selfish
Queen of the Bees
Lazaretto
Cannon (The White Stripes) (>)
Give Me Back My Wig (Hound Dog Taylor cover)
Catch Hell Blues (The White Stripes) (> Cannon reprise)
What's the Trick?
I'm Slowly Turning Into You (The White Stripes)
Encore:
Icky Thump (The White Stripes)
Sixteen Saltines
I Cut Like a Buffalo (The Dead Weather)
Steady, as She Goes (The Raconteurs)
Seven Nation Army (The White Stripes)