James Chance & the Contortions played LPR (pics & video)
Gregory R. Cristman
The crowd was evenly split between old-timers who'd probably seen James Chance in the '70s, mostly middle-aged men with fedoras--and one woman who told the bouncer as she stepped out for a cigarette, "Remember this face, I've got a bingo-playing face"--and younger record geeks with black-rimmed glasses and just the right amount of stubble (permanently two-day old). Also at least one person with a Talk Normal t-shirt; I guess you could call Talk Normal no-wave-revival?

James Chance had on a white suit, sort of lounge singer-ish, and a David Lynchian pompadour. If you closed your eyes and listened to him sing, you wouldn't know whether it was 2010 or 1978. If you opened your eyes, it was almost like watching a ventriloquist throw his voice, seeing this 57-year-old man sing exactly the same way he did 30 years ago... They played "Contort Yourself," of course, and also sped-up covers of "Chain of Fools" and "Super Bad." -[Anastasia Friscia]
No-Wave heroes James Chance & The Contortions headlined Le Poisson Rouge on Saturday (11/13) with help from Five Dollar Priest. Greg said the cover of "Super Bad" was stunning.
Lindstrom played the venue later that night. Jonathan Toubin DJ'd the James Chance show and the official afterparty at Don Hill's.
Though James Chance still gigs, the LPR show was the first for the reunited Contortions "in a decade." As previously listed, it was "the most complete lineup to ever re-unite - James Chance (thee James White himself - who needs no introduction), Pat Place (the ultimate no wave guitar heroine also of Bush Tetras etc), Don Christensen (super-drummer also of Raybeats, etc.), Jody Harris (another distinguished guitar legend who, also played with Lester Bangs, Raybeats, Golden Palominos, Richard Hell, John Zorn, and many more), Robert Aaron (not an original Contortion but this multi-instrumentalist is James' frequent collaborator - known not only for his avant-jazz solo records but his studio work with everybody from B-52s and Blodie and Chic and Afrika Bambataa and Wu Tang Clan), and, for the first time since the 1970s, Adele Bertei (who went on to form The Bloods then become a world-famous disco/dance music vocalist after leaving the Contortions in 1979)."
Five Dollar Priest supported, though Grasshopper (Mercury Rev) played guitar instead of Norm Westberg who Greg spotted in the audience. Other Five Dollar Priest members are/were Ron Ward (Speedball Baby),George Porfiris (Heroine Sheiks), and Patrick Holmes.
More pictures, and some videos (two by Punk Cast) from the show, below...


James Chance & The Contortions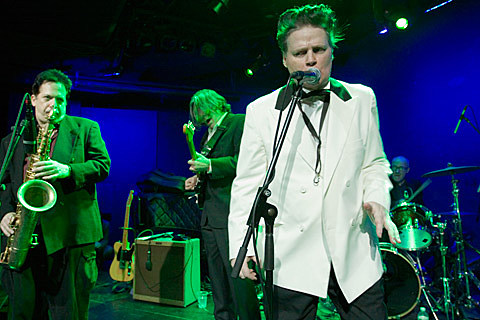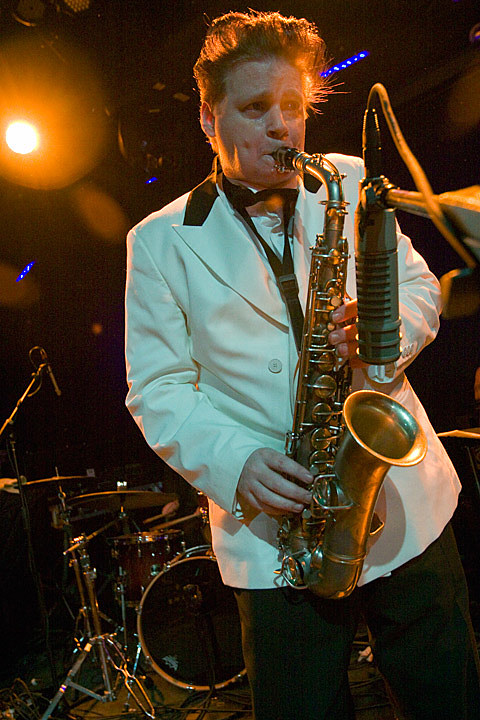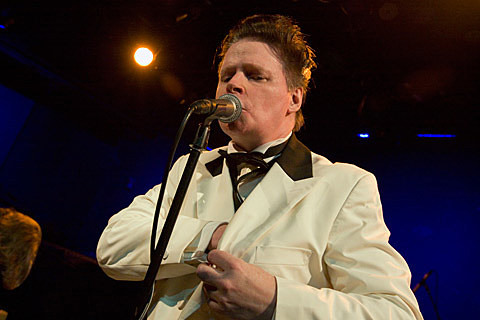 James Chance & The Contortions - I Can't Stand Myself

James Chance & The Contortions - ROVING EYE

James Chance & The Contortions - Chain of Fools

James Chance & The Contortions - Throw Me Away