Jamie xx, Miguel, Lemonade, Sinjin Hawke & others played Warm Up before other late night shows (pics & videos)
"shouts 2 all of u dancing onstage to jamie xx at ps1 ur all beautiful snowflakes with orange wristbands" - Drew Millard
"Jamie xx is absolutely shutting down ps1" - Ned White
"Jamie XX making it feel like im in Miami right now #ps1 #moma" - Val Tott
Miguel/Jamie xx's crowd at MoMA PS1 - 8/4/12

This summer's Warm Up at MoMA PS1, a series featuring afternoon dance parties from forward thinking electronic musicians every Saturday in MoMA PS1's outdoor courtyard, continued this past Saturday (8/4) with sets from Jamie xx, Miguel, Lemonade, Sinjin Hawke, Pearson Sound, and Zora Jones. This one sold out in advance, and the line to get in was crazy long as usual. Many people who didn't have tickets showed up anyway and listened from outside.
Miguel performed a brief yet galvanizing set with his neon-clad backing band, delivering one of the few "concert" experiences of the evening and giving the thousands crammed into the gravel-floored courtyard something to scream about with a handful of weather-appropriate nü-R&B tracks off his forthcoming LP Kaleidoscope Dream in addition to a newly rap-infused performance of one of his well-worn covers, 2Pac's "I Get Around."
Jamie xx at MoMA PS1 - 8/4/12

Meanwhile, for Jamie xx, Warm Up was one of two DJ sets he delivered this past weekend while in town in between The xx's Terminal 5 show last Thursday (8/2) and their Staten Island show, which is TONIGHT (8/6) at Snug Harbor Music Hall (sold out). Jamie premiered a new xx song during his set, and had the crowd going pretty nuts. After that show, he headed over to Manhattan to DJ a FIXED party at Le Poisson Rouge with John Talabot, who will be supporting The xx on many of their upcoming dates (none in NYC) and will return to LPR for a live show with Pional on September 27. Some videos of Jamie and John's sets from LPR are below.
More pictures (unfortunately none of Sinjin Hakwe or Zora Jones) from Warm Up and all videos are below.

---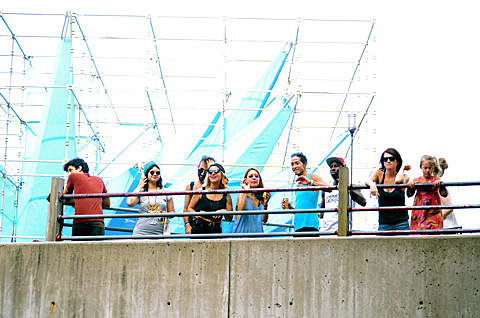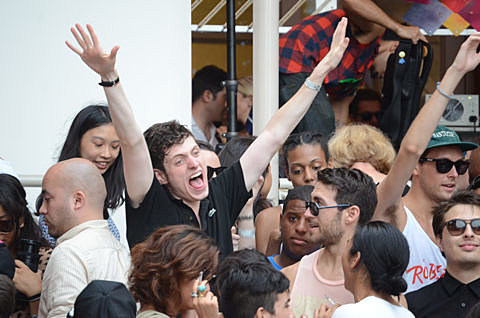 John Talabot at LPR 8/4/12

John Talabot at LPR 8/4/12

Blood Diamonds at 285 Kent 8/4/12