Jane's Addiction played Williamsburg Park w/ Die Antwoord (pics, setlist); Lollapalooza adds festival in Israel
Janes Addiction at Williamsburg Park, 8/17/2012

In related news, Perry Farrell is bringing Lollapalooza to Israel!
Just hours after Lollapalooza was forced to evacuate Grant Park from the storms that blew into the windy city, Perry Farrell, the founder of the three day music festival and the front man of Jane's Addiction announced that Lollapalooza was expanding in a very big way. Lollapalooza Israel, occurring in Tel Aviv, is set to take place next summer on August 20 through the 22nd. The announcement comes with not much surprise as Farrell has been expanding the festival over the last three years with Lollapalooza Brazil beginning two years ago and Lollapalooza Chile celebrating its first year this past spring. Lollapalooza Israel is the country's first major music festival. [XRT]
Lollapalooza Chicago took place earlier this month in Grant Park. Check out our pictures.
More pictures from the Jane's Addiction / Die Antwoord show at Williamsburg Park are below, along with Jane's setlist and a list of updated tour dates.

---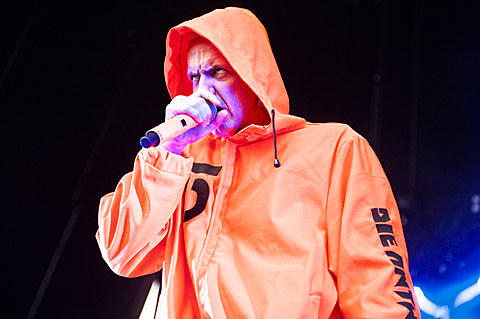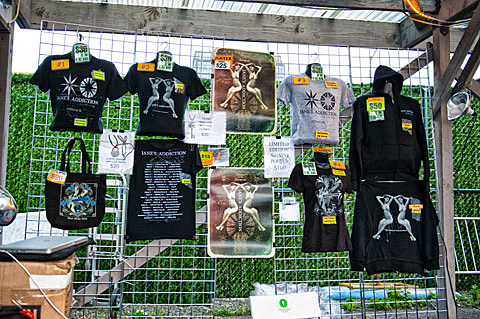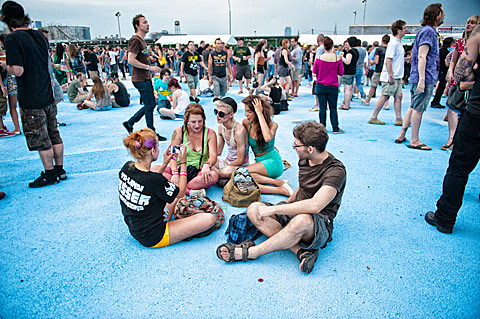 JANES ADDICTION SETLIST 8/21/12
Underground
Mountain Song
Just Because
Been Caught Stealing
Ain't No Right
Irresistible Force
Jane Says
Classic Girl
Up the Beach
Whores
Three Days
=====
Splash a Little Water on It
Ocean Size
Stop!
Summertime Rolls
JANES ADDICTION - 2012 TOUR DATES
AUG 22 STAGE AE PITTSBURGH, PA
AUG 23 MURAT THEATER IN THE OLD NATIONAL CENTRE INDIANAPOLIS, IN
AUG 25 ORPHEUM THEATRE OMAHA, NE
AUG 26 PIKES PEAK CENTER COLORADO SPRINGS, CO
AUG 28 THE GREAT SALT AIR MAGNA, UT
AUG 29 IDAHO BOTANICAL GARDENS BOISE, ID
AUG 31 QUEEN ELIZABETH THEATRE VANCOUVER, BC
SEP 01 SEATTLE CENTER SEATTLE, WA
SEP 04 PORTLAND CENTER FOR THE PERFORMING ARTS PORTLAND, OR
SEP 05 GRAND SIERRA RESORT RENO, NV
SEP 07 THE COSMOPOLITAN OF LAS VEGAS LAS VEGAS, NV
SEP 08 DOHENY STATE BEACH DANA POINT, CA
OCT 17 CIVIC AUDITORIUM SANTA CRUZ, CA
OCT 18 THE WARFIELD SAN FRANCISCO, CA
OCT 20 MONDAVI CENTER FOR THE PERFORMING ARTS DAVIS, CA
OCT 21 SANTA BARBARA BOWL SANTA BARBARA, CA
OCT 23 BAKERSFIELD FOX THEATER BAKERSFIELD, CA
OCT 24 ARIZONA STATE FAIR PHOENIX, AZ