Jason Collett @ Main Hall | Pop Montreal | pics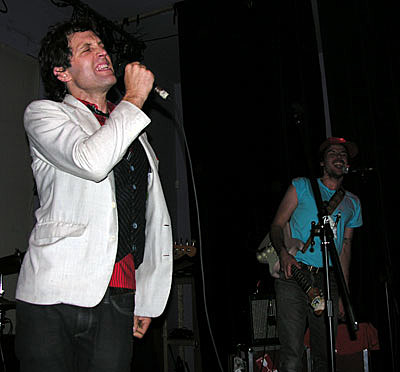 The Most Serene Republic, New Buffalo, Apostle of Hustle, and Jason Collett played the Arts & Crafts Showcase at Main Hall in Montreal for the Pop Montreal festival on Friday September 30, 2005. It was a pretty small venue, and they weren't letting anyone else in when I got there. I could hear New Buffalo playing from the hallway/stairwell.
Determined to get in, I hung out next door at Green Room (another Pop Montreal venue) for the next two hours. By 12:30 enough people had cleared out of Main Hall. Andrew Whiteman (Apostle of Hustle) was covering a Metric song when I entered. It was Apostle's last song, but he did come back on stage later to join Jason Collett and band for a few songs. I've seen Jason perform a solo song or two at BSS shows, but wasn't sure what to expect from his own band. They were really, really good.


I was hoping there'd be some Emily Haines action on stage with Jason, but that didn't happen. At Jason's recent Commodore show, Feist came on stage to sing Emily's part in Hangover Days. Vanmega's got a review of that show and an mp3