JAY REATARD's label releasing music by bands like BOX ELDERS who are touring & releasing other stuff too
Box Elders @ Market Hotel (more by Tim Griffin)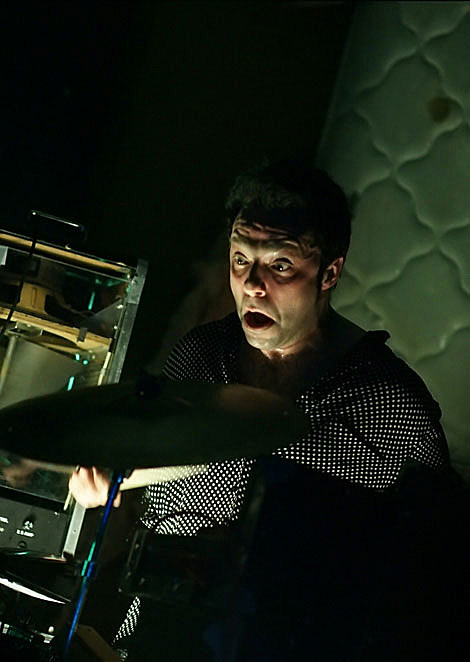 "Though they only have one single to their name, the Box Elders have garnered quite a bit of support, most notably from Jay Reatard who has his sights set on recording them as part of his new imprint on Matador. Led by brothers Clayton and Jeremiah McIntyre, the Box Elders play disarmingly simple, catchy pop music, and it's probably because of their very un-raucous recorded sound that audiences have been sucked in by their strength as a live band. With their repertoire of under-two minute, chant-worthy tunes, the Box Elders are a band you can expect to become slowly and hopelessly hooked on." [The Daily Texan]
After reading the above, I contacted Box Elders to clear up the Jay Reatard thing. The new imprint is not actually new - it's Jay's old, but dormant label Shattered Records which will be starting up again with distribution by Matador Direct and Goner Records. According to another article, Jay will also be producing and releasing music by Cheap Time, Cola Freaks and the Barbaras this year. The Box Elders Shattered 7" will be out in June.
Other Box Elders releases include one 45 you can order from Grotto Records, a full LP coming out on Goner in July, and a 7" for the HOZAC singles club coming out later in the summer.
Jay's last release of his own music was a demo track that he posted to his blog for free. He just finished playing some dates in Europe, and has a show scheduled at Lenny's in Atlanta on April 11th, and one at Goner Records in Memphis on April 18th for Record Store Day.
Box Elders recently played a string of Austin, TX/SXSW shows that included the Todd P / NY Noise party and at least four more. The Nebraska band will hit the road again in April - a tour that brings them to new Brooklyn venue Bruar Falls on April 24th, and to its older sister venue in Manhattan, Cake Shop, one day later.
Box Elders were last in NYC in January when they played Market Hotel. All future tour dates and a live video from the band's pre-SXSW Denton, TX, tour stop, below...

Box Elders @ Bunker Hill, Denton TX. March 16th 2009

Box Elders - 2009 Tour Dates
Apr 6 - Waiting Room w/ Quintron! Omaha, Nebraska
Apr 11 - Public Space One Iowa City, Iowa
Apr 13 - TBA Lafayette, Indiana
Apr 14 - Frank's Power Plant Milwaukee, Wisconsin
Apr 15 - Now That's Class Cleveland, Ohio
Apr 16 - Painted Lady Lounge Hamtramck--Detroit, Michigan
Apr 17 - Rancho Relaxo Toronto, Ontario
Apr 18 - Totally Wired Fest-Howlers Pittsburgh, Pennsylvania
Apr 23 - Vassar College Poughkeepsie, New York
Apr 24 - Bruar Falls Brooklyn, New York
Apr 25 - Cake Shop New York City, New York
Apr 26 - Cherry St. Station Wallingford, Connecticut
Apr 27 - O'Briens Boston, Massachusetts
Apr 28 - Jr's Bar Philidelphia, Pennsylvania
Apr 29 - The Union Athens, Ohio
Apr 30 - Empty Bottle Chicago, Illinois
May 1 - Waiting Room Omaha, Nebraska
Jun 6 - BAMALAMA!!!! Huntsville, Alabama