JEFF the Brotherhood played Santos w/ Fuck Ton (pics, review)
Jeff the Brotherhood, Santos 7/18/2012

What do you get when you put JEFF the Brotherhood in a tiny room and make the show free and all-ages? Wildness. It has been a while since I've seen the Nashville duo play a room as small as Santos' basement and it was the cheerfully out-of-control thunderstorm I was hoping to experience. Mind you I wasn't in the thick of it, but it is certainly fun to watch. The mayhem started with the first chord of the first song and rarely let up, though Jake and Jamin stopped the show after three songs when things got too crazy up front and tried to remove a set of steps up to the stage, but after a minute of failed wrangling with them, just told the crowd to "be nice."
The show was a BV-presented release party for JEFF's new album, Hypnotic Nights, which came out this week. The band played a good half of the album, plus most of the JEFF "oldies" you'd want like "Bone Jam," "Mellow Out" and ripper "Heavy Days." "We'll be back sometime soon," Jake told the sweaty crowd. "Like usual." When, exactly, they'll be back is still up in the air but all JEFF tour dates are listed below.
Openers were Fuck Ton which is basically a Death by Audio house band, with head DbA-ers Edan Wilber and Matt Conboy providing the rhythm section, with gutteral screams and vocals by Travis of Grooms and Jay Heiselmann of The Immaculates (plus Mark Kleeb on electronics). Pure noise but entertaining for their short set, plus it brought a little of Death By Audio (the place JEFF has played more than anywhere else in NYC) to the Lower East Side (well, actually Chinatown).
More pictures of both bands from the Santos show are below...

---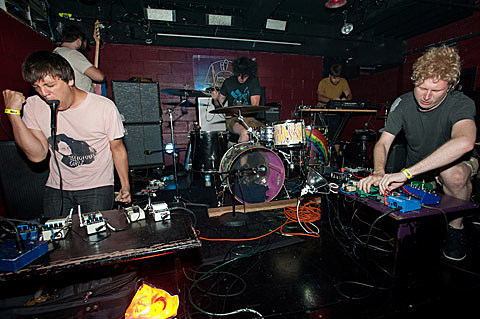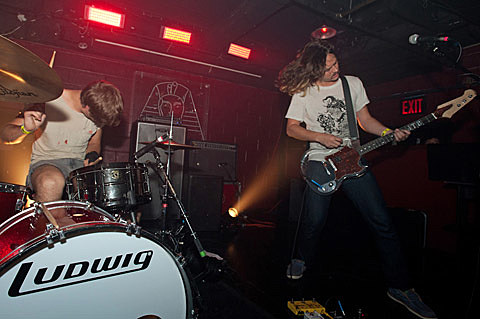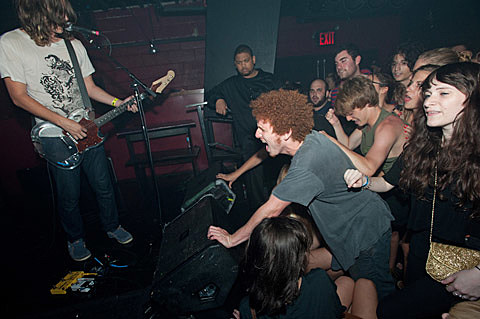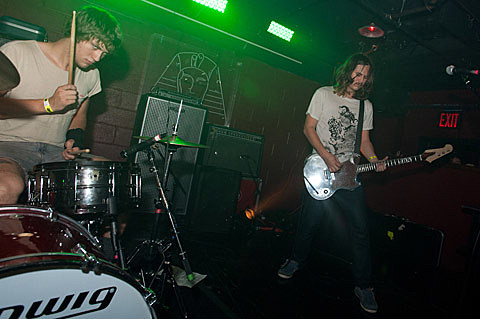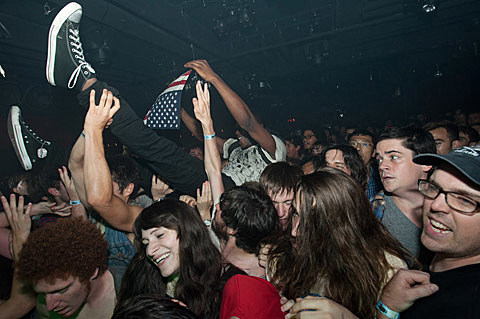 JEFF the Brotherhood - 2012 Tour Dates
07/27 ROCK ISLAND, IL
07/28 MINNEAPOLIS, MN
07/29 DES MOINES, IA
07/30 OMAHA, NE
07/31 ST. LOUIS, MO
08/01 COLUMBUS, OH
08/02 CLEVELAND, OH
08/03 CHICAGO, IL
08/04 CHICAGO, IL
08/11 BRISTOL, TN
08/18 TRONDHEIM, NORWAY
08/20 MALMO, SWEDEN
08/21 BERLIN, GERMANY
08/22 HAMBURG, GERMANY
08/23 GRONINGEN, NETHERLANDS
08/24 READING, UK
08/25 LEEDS, UK
08/26 SCOTLAND,
08/28 YORK, UK
08/29 MANCHESTER, UK
08/30 BRISTOL, UK
08/31 LONDON, UK
09/01 LONDON, UK
09/03 PARIS, FRANCE