JEFF the Brotherhood arrive for CMJ (dates), new album out now +++ pics from Glen Danzig's House ++ new video
photographer: paul birman
photos by Paul Birman
DOWNLOAD: JEFF the Brotherhood - Bone Jam (MP3)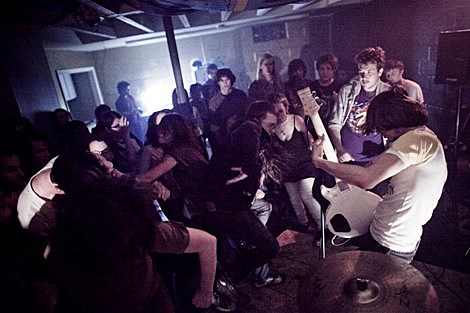 BV photographer Paul Birman happened to be in Nashville last week (10/13 to be exact) on the same day JEFF the Brotherhood were playing a hometown show at "Glenn Danzig's House" which is literally someone's house, though it doesn't actually belong to Glenn. The bill also included Grooms. The pictures in this post are from that show (and they're continued below)
JEFF the Brotherhood's new album Heavy Days was released the same day on vinyl and as a digital download. Their brand new video (a BV premiere) for the song, "U Got The Look", is below.
Tonight (10/21) JEFF kick-off a NYC-area CMJ run of shows in New Brunswick, NJ. Tomorrow (10/22) they play their first NYC gig at the free BrooklynVegan day party at Pianos. After CMJ they take a short break before heading out on the road with Shonen Knife. They're also back in December to open for Ted Leo at Bowery Ballroom. All dates and more pictures from Nashville, and that new video, below...


Cy Barkley
The Looking Glass
Grooms
Jeff the Brotherhood
JEFF the Brotherhood - U Got The Look from Brooklyn Vegan on Vimeo.
JEFF The Brotherhood - 2009 Tour Dates
10/21 - New Brunswick, NJ - Meat Town USA
10/22 - New York, NY - Piano's (Brooklyn Vegan CMJ Party @ Pianos @ 4pm)
10/22 - New York, NY - The Crash Mansion (Beyond Race Party)
10/23 - New York, NY - The Charleston (Infinity Cat Recordings CMJ Showcase @ 12am)
10/24 - New York, NY - Knitting Factory (Peter's Party Pallace Showcase a 4pm)
10/24 - New York, NY - Don Pedro's (Impose Magazine CMJ Showcase @ 6:30pm)
10/24 - New York, NY - Union Pool (Panache Booking CMJ Showcase @ 10:20pm)
10/24 - New York, NY - 600 Brunswick Ave (My Open Bar Showcase @ 1am)
11/9 - New Orleans, LA - TBA^
11/10 - Baton Rouge, LA - Spanish Moon^
11/11 - Memphis, TN - HiTone^
11/12 - Atlanta, GA - EARL^
11/13 - Richmond, VA - Plaza Bowl^
11/14 - Washington, DC - Comet Pizza & Ping Pong^
11/15 - Hudson, NY - Bard College^
11/16 - Philladephia, PA - Johnny Brenda's^
11/17 - Brooklyn, NY - Brooklyn Bowl^
11/18 - Buffalo, NY - Mohawk Place^
11/19 - Toronto, ON - Sneaky Dee's
11/21 - Carbondale, IL - Bobby's (w/Digital Leather)
12/5 - Princeton, NJ - Terrace F Hall, Princeton University
12/6 - New York, NY - Bowery Ballroom*
*w/ Ted Leo
^w/ Shonen Knife