Jennifer O'Connor released an album, announces tour (dates)
Jennifer O'Connor at Maxwell's in 2009 (more by Toby Tenebaum)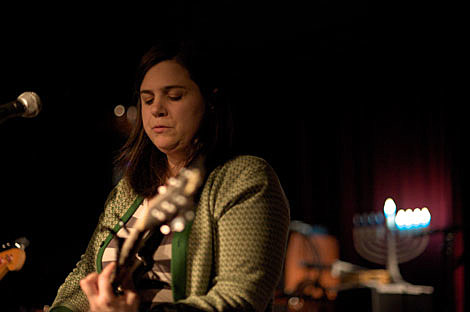 Jennifer O'Connor put out her first release since leaving Matador in 2009, I Want What You Want digitally on November 8, 2011 via her own label, Kiam Records, the label that also released her 2002 self-titled debut. According to a press release, the album was recorded with O'Connor's longtime rhythm section of Jon Langmead (drums) and Michael Brodlieb (bass). Select songs feature Tim Foljahn (Two Dollar Guitar, Cat Power, Townes Van Zandt) on guitar, Amy Bezunartea on backing vocals, guitar and harmonica, Richard Baluyut (Versus) on guitar and backing vocals, Kendall Meade (Mascott, Helium, Sparklehorse) on electric piano, Tom Beaujour on guitar and Kirsten McCord on cello. She co-produced it with Tom Beaujour (Nada Surf, The Virgins). Download album track "Running Start" above and stream it below. You can buy the album on eMusic and stream it on Spotify.
The physical version of the album is coming out March 6 via Kiam Records as a CD digipick, white vinyl, and a limited edition hand-stamped CD. The limited edition CD is available now at the Kiam webstore and pre-orders will be available soon for the regular CD/LP.
Jennifer is going on tour in support of the physical release this March with Tim Foljahn, who recorded on her new album, and has his own album coming out on March 6 via Kiam, titled Songs For An Age of Extinction. Download the track "New Light" from that album above and stream it below.
Their tour hits NYC on March 2 at Cake Shop with Ma'am and March 4 at Union Pool, but Tim Foljahn is not listed on the Union Pool date. Kleenex Girl Wonder and Amy Bezunartea, who sang on the new album and will also sing live with Jennifer, open that show instead.
Jennifer O'Connor -- 2012 Tour Dates
03/01 Boston, MA Church
03/02 New York, NY Cake Shop ^#
03/04 Brooklyn, NY Union Pool $
03/06 Philadelphia, PA North Star Bar ^
03/07 Washington, DC TBA
03/08 Richmond, VA Balliceaux ^
03/09 Durham, NC The Garage ^
03/10 Asheville, NC Lexington Avenue Brewery ^
03/12 Atlanta, GA The Five Spot ^
03/13 New Orleans, LA TBA
03/14 03/17 Austin, TX SXSW ^
03/18 Hot Springs, AK Valley of the Vapors Festival
03/19 St. Louis, MO TBA
03/20 Chicago, IL Pancho's ^*
03/21 Cleveland, OH TBA
03/22 Pittsburgh, PA Thunderbird Cafe ^
^ with Tim Foljahn
# - w/ Ma'am
$ - w/ Kleenex Girl Wonder, Amy Bezunartea
* with Advance Base