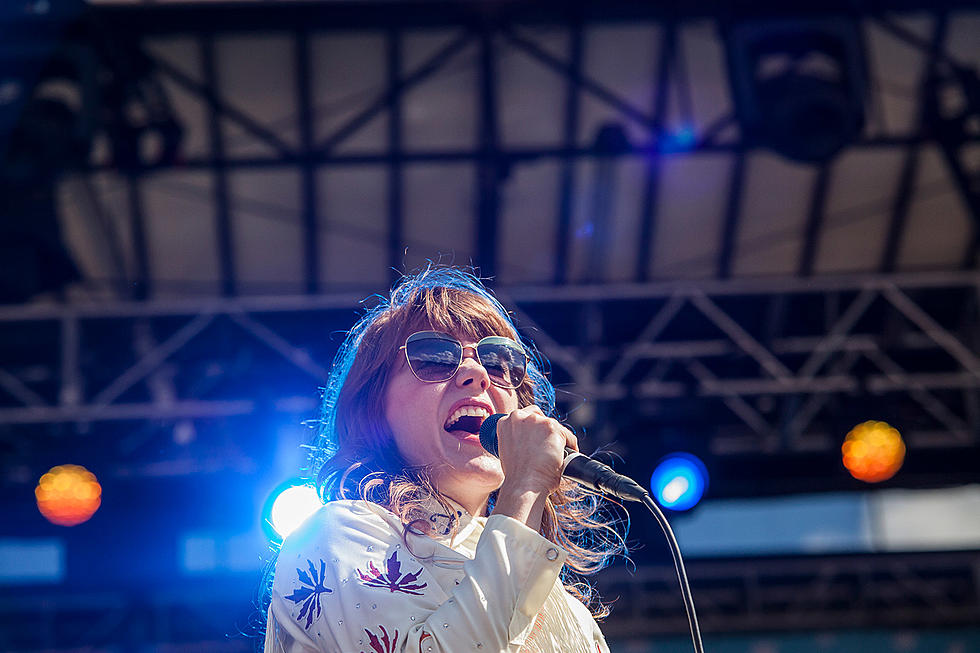 Jenny Lewis replaces Glass Animals on Beck's MSG & Philly shows
Jenny Lewis at Eaux Claires 2016 (more by David Szymanski)
Beck is on tour now supporting last year's Colors, and that tour is about to roll through the Northeast for shows in Boston, NYC, Philly, and more. The NYC and Philly shows were initially with Glass Animals, who had to drop off last-minute "due to unforeseen circumstances," but they were replaced by a much more exciting artist: Jenny Lewis!
That means Jenny opens for Beck at both NYC's Madison Square Garden on 7/19 and Philly's Festival Pier at Penn's Landing on 7/20 (tickets).
Jenny also opens Beck's two nights at Red Rocks in September, and she has other dates, including a sold-out headlining show at Jersey City's White Eagle Hall on 7/27 with Cut Worms.
Updated dates for both Beck and Jenny Lewis are listed, along with a video of Beck and Jenny Lewis performing together in 2014, below.
Beck -- 2018 Tour Dates
07/10/2018 Montreal, QC Place Bell w/ Oh Wonder
07/12/2018 Quebec, QC Festival de Quebec
07/13/2018 Ottawa, ON RBC Bluesfest
07/15/2018 Boston, MA Blue Hills Bank Pavilion w/ Vundabar
07/16/2018 Buffalo, NY Rockin' at the Knox
07/19/2018 New York City, NY Madison Square Garden w/ Jenny Lewis
07/20/2018 Philadelphia, PA Festival Pier at Penn's Landing w/ Jenny Lewis
08/10/2018 San Francisco, CA Outside Lands
08/11/2018 San Diego, CA X-Fest
08/18/2018 Osaka, Japan Summer Sonic
08/19/2018 Tokyo, Japan Summer Sonic
09/13/2018 Minneapolis, MN The Armory w/ The Voidz
09/14/2018 Chicago, IL Riot Fest
09/16/2018 St. Louis, MO Fox Theatre w/ The Voidz
09/17/2018 Kansas City, MO Starlight Theatre w/ The Voidz
09/19/2018 Lincoln, NE Pinewood Bowl Theatre w/ The Voidz
09/22/2018 Salt Lake City, UT Maverik Center w/ The Voidz
09/24/2018 Morrison, CO Red Rocks Amphitheatre w/ Jenny Lewis
09/25/2018 Morrison, CO Red Rocks Amphitheatre w/ Jenny Lewis
09/28/2018 Los Angeles, CA Hollywood Bowl
09/30/2018 Dana Point, CA The Ohana Festival
10/06/2018 Memphis, TN Mempho Music Festival
Jenny Lewis -- 2018 Tour Dates
07/10/2018 Kansas City, MO / The Truman w/ The Cactus Blossoms
07/11/2018 Fayetteville, AR / George's Majestic Lounge w/ The Cactus Blossoms
07/13/2018 Knoxville, TN / Bijou Theatre w/ The Cactus Blossoms
07/14/2018 Louisville, KY / Forecastle Festival
07/15/2018 Asheville, NC / The Orange Peel w/ The Cactus Blossoms
07/16/2018 Athens, GA / Georgia Theatre w/ The Cactus Blossoms
07/19/2018 New York, NY / Madison Square Garden Arena w/ Beck
07/20/2018 Philadelphia, PA / Festival Pier at Penn's Landing w/ Beck
07/24/2018 Morgantown, WV / Metropolitan Theatre w/ Cut Worms
07/25/2018 Buffalo, NY / Asbury Hall at Babeville w/ Cut Worms
07/27/2018 Jersey City, NJ / White Eagle Hall w/ Cut Worms
07/28/2018 Newport, RI / Newport Folk Festival
07/29/2018 Portland, ME / Thompson's Point w/ Father John Misty
07/31/2018 Charlottesville, VA / Jefferson Theater w/ Cut Worms
08/01/2018 Raleigh, NC / North Carolina Museum of Art w/ Father John Misty
08/03/2018 Montreal, QC / Osheaga Music and Arts Festival
08/03/2018 Montreal, QC / Osheaga Music and Arts Festival
08/04/2018 Toronto, ON / Fort York Garrison Commons w/ The National, Father John Misty, Julien Baker, Dan Edmonds
08/04/2018 Montreal, QC / Osheaga Music and Arts Festival
09/21/2018 Marfa, TX / Trans-Pecos Festival - El Cosmico
09/24/2018 Morrison, CO / Red Rocks Amphitheatre w/ Beck
09/25/2018 Morrison, CO / Red Rocks Amphitheatre w/ Beck
11/17/2018 Mexico City, Mexico / Corona Capital Music Festival
11/18/2018 Mexico City, Mexico / Corona Capital Music Festival