Jens Lekman played the Green Building (night 1 pics, setlist)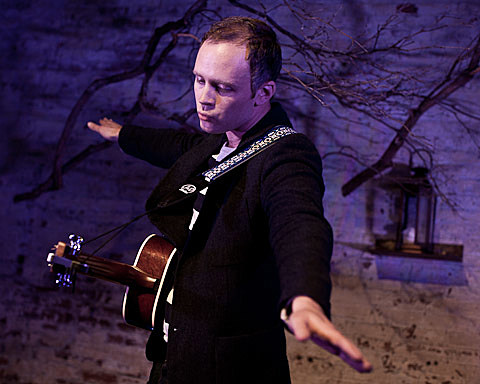 With its antique brick walls, shiny chandeliers, high ceilings, and open floor plan, The Green Building typically hosts special events like weddings and elaborate parties, but last night, the large warehouse-like space was reserved not by two people declaring their love, but by a crowd of 400 who all held an allegiance to the same man: Swedish sweetheart Jens Lekman.
A freezing November day in Coney Island two years ago left Lekman a bit disenchanted with the city, but as ticket sales for his brief two-night stand in Brooklyn reveal, his fans are glad he decided to return. "These two shows will be some kind of closure for me, and I feel like I'm ready to fall in love with New York again," he said, a few songs into his Thursday night set. I'll let it slide that he then dedicated the next song to the "broken-hearted," which suggests that he might not have escaped the stark, lonely image of off-season Coney Island after all.
The make-shift stage was minimally decorated. A couple of curved tree branches dramatically hung from the ceiling by nearly invisible rope. But the simple yet gorgeous setting helped emphasize the beauty of Lekman's stripped down acoustic performance and his effortless charm. Lekman reached out to the audience early. During his first song ("Sipping on the Sweet Nectar"), he interrupted himself to say, "I want you to harmonize with me on this one." Of course, given the dedication of Lekman's fan base, he didn't have to tell anyone twice.
Lekman may be a subtle performer, but he knows the value of story telling. Before nearly every song (especially the new ones), he explained its meaning or the circumstances that led him to write it. Over the course of the evening, we learned that he grew up near a potato chip factory and that he once attempted to stalk Kirsten Dunst when she was visiting his native town of Gothenburg. (Sadly for Jens, since Gothenburg's clubs don't have VIP lines, he waited inside in vain. Dunst gave up due to the long line.)
Near the end of his set, Lekman and drummer Charlie Hall decided to pump up the volume to get more people dancing. Suddenly, the bass picked up, and Lekman started utilizing more samples and backing tracks. His single, "The Opposite of Hallelujah" contained a brief mash-up with "Give Me Just a Little More Time" by Chairmen of the Board. In the unfolding excitement, Lekman even handed his tambourine over to one lucky audience member.
After a remix version of "Sipping on the Sweet Nectar," he returned to the stage twice for encores. As he prepared to walk off stage, Lekman leaned back into the mic and offered one last personal touch. "The night is young. If you see me in the crowd, and you want to hear a song just come up to me and I will sing it personally."
Last night's show was one of three shows Jens scheduled this month. The first happened around a pool in LA. The next is tonight at the same environmentally-friendly Brooklyn space as Thursday's show. More pictures from last night (12/9), and the setlist, below...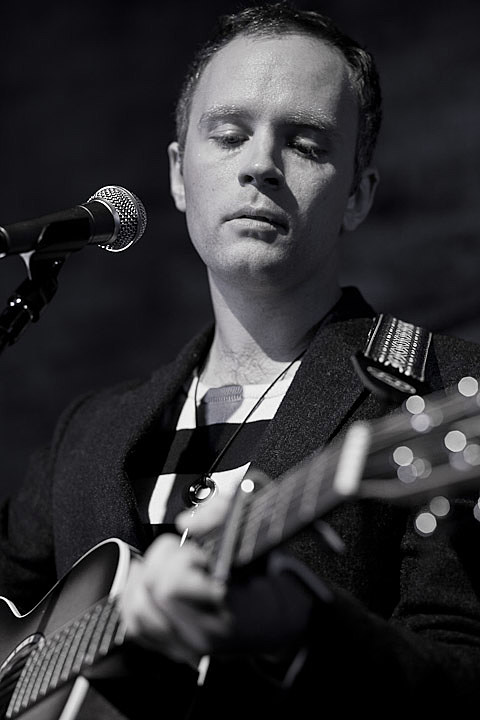 Jens Lekman Setlist (New songs designated by *)
Sipping on the Sweet Nectar
Kanske är jag kär i dig
*Argument with myself on Elizabeth Street (approximate title)
*The End of the World is Bigger Than Love
*Dandruff on Your Shoulder
*Waiting for Kirsten
At the Dept. of Forgotten Songs
Black Cab
*I Want a Pair of Cowboy Boots
*Golden Key (approximate title)
The Opposite of Hallelujah
Into Eternity
Sipping on the Sweet Nectar (Remix version)
--
First Encore
Shirin
--
Second Encore
A Sweet Summer's Night on Hammer Hill
And I Remember Every Kiss