Jesus Lizard, Tortoise & Yo La Tengo @ 2009 P4K Fest – pics
photos by Joseph Juechao Xu
"TORTOISE was good and everything, but way better the first year i ever went (when i was 14) probably because they were the headlining band that year and played late at night when it was dark. and their setlist flowed better....the request the night thing was cool but i think it really put a damper on the band's moods. EXCEPT! for the JESUS LIZARD. that was so awesome and intense. they didn't act old at all. BUILT TO SPILL on the other hand was a disappoint. sadly :( they looked like they were having the worst night of their life and i could barely hear it. to top it off....drunk bros were behind me screaming the words. you don't scream or dance or yell for built to spill. they even "wooed" the instrument parts between singing. bleh. but it was still pretty sounding and cool to see. i didn't watch YO LA TENGO. i think they're eh." [maybemae]
I watched some of the stream and what I saw of Yo La Tengo was much better than "eh"!, and I thought Tortoise sounded great (though it was funny to hear them say something like, "we have a new album out, but we're not playing any of those songs... BECAUSE NONE OF YOU REQUESTED THEM!"). I do agree 100% with the above review of the Jesus Lizard though. David Yow is still a monster, and I can't wait for the Irving Plaza show. I didn't watch Built to Spill, but according to Jim DeRogatis, that was probably the right decision anyway.
Tortoise is on tour and plays Le Poisson Rouge in NYC on Tuesday night. The rest of the pictures from Day One of the 2009 Pitchfork Festival, below...

Tortoise...
Yo La Tengo...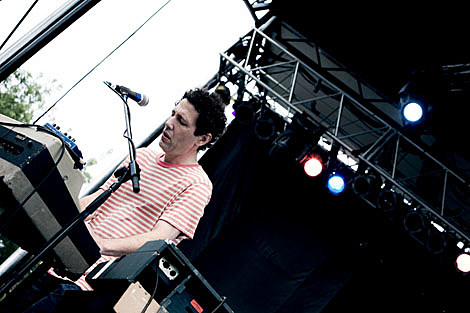 Jesus Lizard...
And the Built to Spill pics are HERE.
-
Tortoise @ the Pitchfork Festival - setlist (correct?)
Seneca
Djed
Swung From The Gutters
Along The Bank Of Rivers
TNT
The Suspension Bridge At Iguazú Falls
Glass Museum
---
Yo La Tengo played a Brooklyn show with Wilco one week earlier.
--