Jim James & The Roots played Prospect Park (pics, videos, setlists); My Morning Jacket hosting 'One Big Holiday' in MX
Jim James & The Roots gettin' some air

My Morning Jacket frontman Jim James and The Roots came to Prospect Park on Tuesday (6/18) (after Jim played Bonnaroo and before Roots drummer Questlove helped Andrew WK break a world record) for a Celebrate Brooklyn show where they each played their own sets, and then for an encore came on stage together for a collaborative set. Their collaboration included covers of John Lennon's "Instant Karma," Bill Withers' "Use Me," Prince's "I Could Never Take the Place of Your Man," and The Roots' song "Dear God 2.0" Videos of those collaborations, setlists, and pictures of the whole show are in this post.
Meanwhile, after My Morning Jacket wrap up their tour with Bob Dylan and Wilco, they'll host One Big Holiday in Riviera Maya, Mexico's Hard Rock Hotel from January 26-30. MMJ will be performing three times, and there's all kinds of other activities, events, a dance party, and more. The "holiday" is on sale now and admission covers all drinks.
Jim James also plays Delaware's Firefly Music Festival this Saturday (6/22), so if you're going to that, you can catch him there.
More pictures, videos and setlists below...

---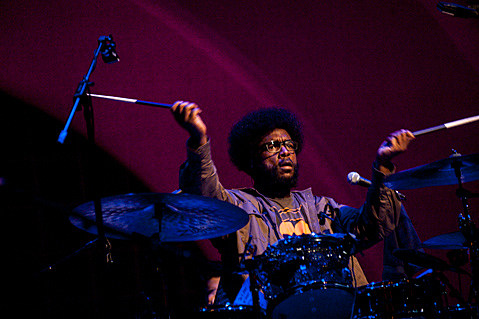 Jim James & The Roots - "Instant Karma" (John Lennon Cover)

Jim James & The Roots - "Use Me" (Bill Withers Cover)

Jim James & The Roots - "Dear God 2.0" and "I Could Never Take the Place of Your Man" (Prince Cover)

Jim James at Prospect Park - 6/18/13 Setlist: (via)
State of the Art (A.E.I.O.U.)
Know Til Now
Dear One
A New Life
Actress
All Is Forgiven
God's Love to Deliver
The Right Place (Monsters of Folk song)
Changing World (New Multitudes song)
The Roots at Prospect Park - 6/18/13 Setlist: (via)
Table of Contents, Parts 1 & 2
The Next Movement
You Got Me
Here I Come
The Seed (2.0)
Jim James & The Roots at Prospect Park - 6/18/13 Setlist:
Dear God 2.0 (The Roots song)
I Could Never Take The Place Of Your Man (Prince cover)
USe Me (Bill Withers cover)
Instant Karma (John Lennon cover)