Jimmy Eat World & Front Bottoms tour on presale (password here)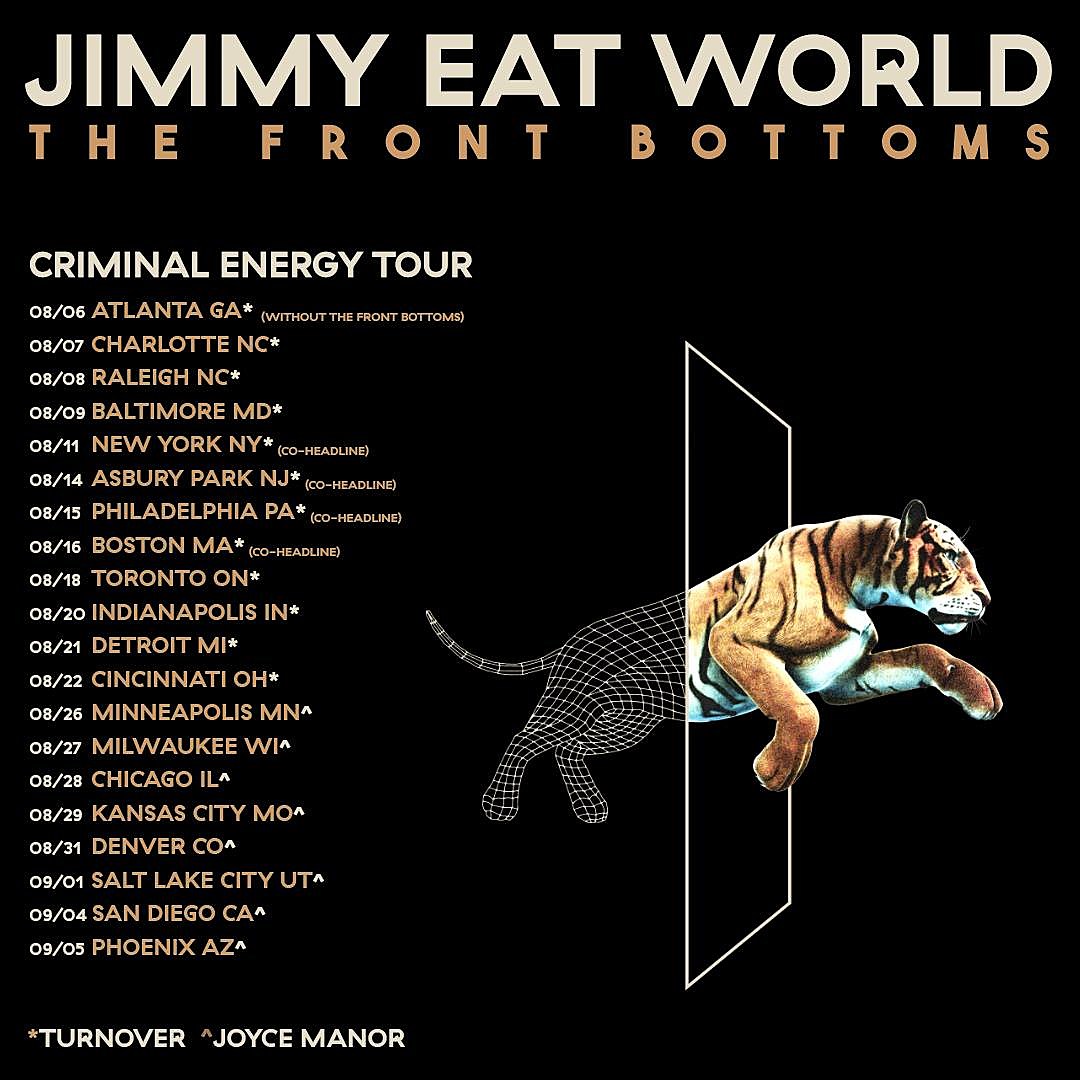 Tickets are now on presale for all Jimmy Eat World & Front Bottoms tour dates.
Front Bottom Presale Code: TFB2020
JEW Presale Code: CONGRATULATIONS
Ticketmaster Presale Code: TOUR
To sweeten the deal, support on some dates comes from Turnover and Joyce Manor!
The tour includes a NYC show on August 11 at The Rooftop at Pier 17 and an Asbury Park show on August 14 at Stone Pony Summer Stage, both of which are with Turnover.
For Jimmy Eat World, this tour will be in continued support of last year's very good Surviving, which we said the following about:
If Integrity Blues was a descendent of Futures, then Surviving is a descendent of 2001's Bleed American, the album that took Jimmy Eat World from "Rockstar" to rock stars. When they wrote that album, drummer Zach Lind said, "We'd gotten interested in people like Tom Petty and Bruce Springsteen – guys who wrote really great, big American rock songs," and it sounds like they've done the same thing on Surviving. It's a lean ten-song album with no obvious filler, and more than half of these tracks are crunchy, power pop-tinged, alternative rock anthems that sound like they would've been as radio-ready in the early 2000s as "The Middle" was.
Even with a new album to support, we can probably count on career-spanning sets. The band says: "Whether we've slept on your floor after the '97 basement show or you've just only recently heard about us, we will have something you'd be into catching live!" Jimmy Eat World also have other upcoming tour dates this year, including opening some of the overseas dates on My Chemical Romance's reunion tour.
The Front Bottoms are expected to release a new album this year, and while most details on that are still being kept under wraps, they did recently release the new single "Camouflage." They also have a headlining tour of their own, including a NYC show on April 17 at Hammerstein (tickets).
We included Jimmy Eat World, The Front Bottoms, Turnover, and Joyce Manor on our list of the 100 Best Punk & Emo Albums of the 2010s.
And all dates again:
Criminal Energy Tour Dates 2020
August 6th Atlanta, GA Coca Cola Roxy*
August 7th Charlotte, NC Charlotte Metro Credit Union Amphitheatre^
August 8th Raleigh, NC Red Hat Amphitheatre^
August 9th Baltimore, MD MECU Pavilion^
August 11th New York, NY The Rooftop at Pier 17 (co-headline The Front Bottoms)*
August 14th Asbury Park, NJ Stone Pony Summer Stage (co-headline The Front Bottoms)*
August 15th Philadelphia, PA The Met Philadelphia (co-headline The Front Bottoms)*
August 16th Boston, MA Rockland Trust Bank Pavilion (co-headline The Front Bottoms)*
August 18th Toronto, ON Rebel^
August 20th Indianapolis, IN Amphitheater at White River State Park^
August 21st Detroit, MI The Fillmore Detroit^
August 22nd Cincinnati, OH PNC Pavilion^
August 26th Minneapolis, MN The Armory#
August 27th Milwaukee, WI The Rave (non-Live Nation produced show)#
August 28th Chicago, IL Byline Bank Aragon Ballroom#
August 29th Kansas City, MO Arvest Bank Theatre at The Midland#
August 31st Denver, CO Fillmore Auditorium#
September 1st Salt Lake City, UT The Complex#
September 4th San Diego, CA Cal Coast Credit Union Open Air Theatre at SDSU#
September 5th Phoenix, AZ Arizona Federal Theatre#
All Front Bottoms Dates
Apr 17 – New York, NY – Hammerstein Ballroom
Apr 24 – Portland, ME – Aura
Apr 25 –Burlington, VT – Higher Ground
Apr 26 – Albany, NY – Upstate Concert Hall
Apr 28 – Pittsburgh, PA – Roxian Theater
Apr 29 – Cleveland, OH – Agora Theater & Ballroom
Apr 30 – Louisville, KY – Mercury Ballroom
May 02 – Atlanta, GA – Shaky Knees~
May 03 – Tampa, FL – The Ritz Ybor
May 04 – Orlando, FL – Hard Rock Live
May 05 – Charleston, SC – The Music Farm
May 06 – Asheville, NC – The Orange Peel
May 08 – Norfolk, VA – The NorVA
May 09 – Charlottesville, VA – Jefferson Theater
Jul 31 – Montreal, QC – Osheaga~
Aug 7 - Charlotte, NC - Charlotte Metro Credit Union Amphitheatre^
Aug 8 - Raleigh, NC - Red Hat Amphitheater^
Aug 9 - Baltimore, MD - MECU Pavilion^
Aug 11 - New York, NY - The Rooftop at Pier 17 (co-headline The Front Bottoms)^
Aug 14 - Asbury Park, NJ - Stone Pony Summer Stage (co-headline The Front Bottoms)^
Aug 15 - Philadelphia, PA - The Met Philadelphia (co-headline The Front Bottoms)^
Aug 16 - Boston, MA - Rockland Trust Bank Pavilion (co-headline The Front Bottoms)^
Aug 18 - Toronto, ON - Rebel^
Aug 20 - Indianapolis, IN - Amphitheater at White River State Park^
Aug 21 - Detroit, MI - The Fillmore Detroit^
Aug 22 - Cincinnati, OH - PNC Pavilion^
Aug 26 - Minneapolis, MN - The Armory#
Aug 27 - Milwaukee, WI - The Rave#
Aug 28 - Chicago, IL - Byline Bank Aragon Ballroom#
Aug 29 - Kansas City, MO - Arvest Bank Theatre at The Midland#
Aug 31 - Denver, CO - Fillmore Auditorium#
Sep 1 - Salt Lake City, UT - The Complex#
Sep 4 - San Diego, CA - Cal Coast Credit Union Open Air Theatre at SDSU#
Sep 5 - Phoenix, AZ - Arizona Federal Theatre#
4/17 – 5/9 The Front Bottoms Headline Tour
8/7 – 9/5 with Jimmy Eat World
^ featuring Turnover
# featuring Joyce Manor
~ Festival Date