Joanna Newsom played Carnegie Hall (pics & setlist)
unknown
she played some songs on piano

There were no guest appearances by Rick Ross, John Legend or Nicki Minaj, and Ivanka Trump wasn't tweeting from the balcony with Spike Lee, but there were a lot of SNL cast members in attendance! Seriously though, Joanna Newsom, complete with family in attendance (SNL cast member included), put on an amazing show at Carnegie Hall Tuesday night, 11/23, to a super crowd who loved being there as much as she and her band did. Harp, piano, drums, guitar, banjo, violin, recorder, genius arrangements and some very impressive trombone playing was just some of what was happening on stage at the venue with the super acoustics. Standing ovations happened after her set and after the one-song encore. The show ended at 11.
Second opener Ryan Francesconi, who is also in her band, played three solo instrumental songs on guitar. He performs again solo, and as a trio (with New York percussionist Timothy Quigley and Australian violinist Mirabai Peart who is also a member of Joanna Newsom's touring ensemble) tonight (11/24) at Sycamore in Brooklyn.
Joanna's full setlist and more pictures from the show below...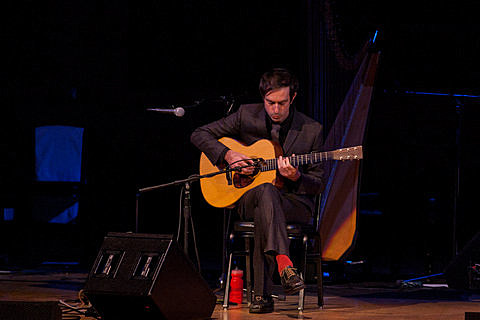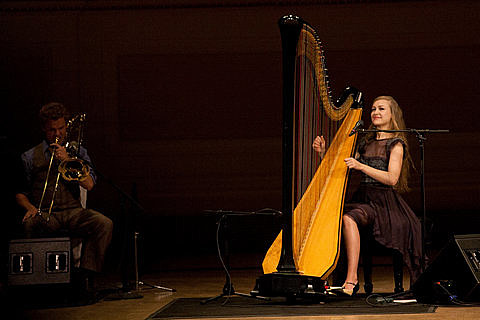 Joanna Newsom Concert at Carnegie Hall, New York, NY, USA Setlist on November 23, 2010
Bridges and Balloons
Have One On Me
Easy
Cosmia
In California
Inflammatory Writ
Go Long
Good Intentions Paving Company
Emily
Peach, Plum, Pear