Joey Bada$$ played SUNY Purchase's Fall Fest, playing more shows (pics & dates)
Joey Bada$$ @ SUNY Purchase - 10/27/12

One of the most exciting young artists that played this year's CMJ that I personally regret missing is Brooklyn rapper Joey Bada$$. He brings Illmatic style rhymes over MF DOOM, Madlib, and Lord Finesse beats, plus in-house beats from his crew, Pro Era, with a feel as genuinely boom bap as the ones they borrowed. So after missing them at CMJ, I caught Joey and Pro Era at SUNY Purchase's Fall Fest on Saturday (10/27), where they mobbed the stage and had the whole place dancing.
Pro Era took the stage for a few songs without Joey Bada$$ to hype the crowd, getting them waving their arms and yelling along to call and response choruses. Then they finally brought Joey out, who took over with "World Domination," and continued to lead his group and the crowd for the rest of the set. When he's up there, it's noticeable that he's the leader but really all of Pro Era is very communal. They've got way more members than mics but they trade off a lot and the vibe stays at the same height throughout. Like Odd Future or A$AP Mob, they bring a thousand people going reckless on stage, and jumping into the crowd. But while those guys are pretty forward thinking musically, Joey and Pro Era deliver more like Action Bronson -- they aren't just influenced by the golden age era, they're convinced it never ended. Pictures from their set at SUNY Purchase's Fall Fest are in this post.
Joey Bada$$ will play Wesleyan University on November 9 and then is headed to Europe for a tour there. Upon returning to the US, he'll play a hometown show at SOB's on November 20. Tickets for that show are not on sale yet but check ticketweb for updates.
A list of all upcoming dates and more pics from Fall Fest are below.

---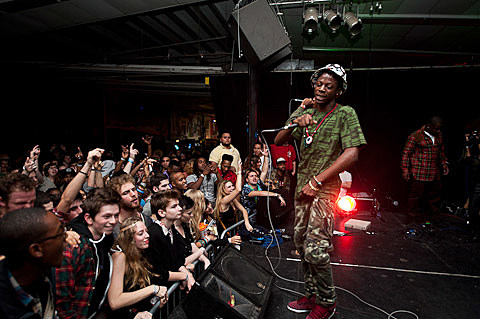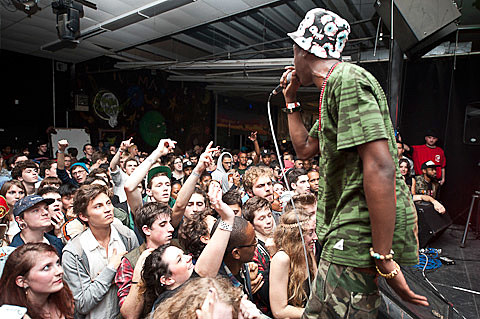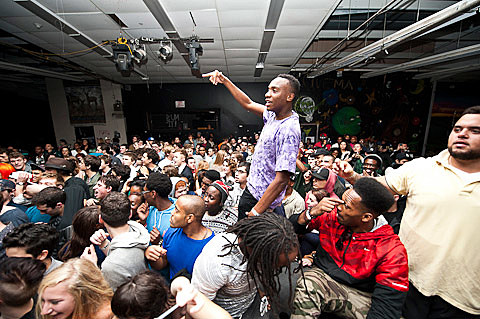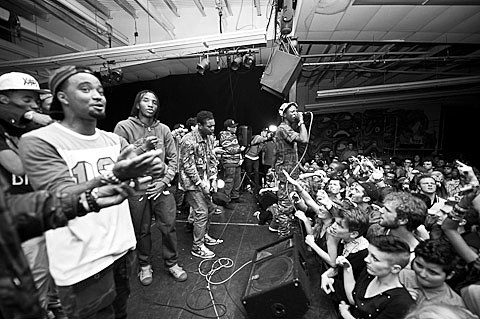 Joey Bada$$ -- 2012 Tour Dates
Fri. Nov. 9 - Wesleyan University - Middleton, CT
Tues. Nov. 13 - Bape Secret Party - London, UK (private show)
Wed. Nov. 14 - XOYO - London, UK (sold out)
Thu. Nov. 15 - La Belleviloise - Paris, France
Fri. Nov. 16 - Buma Rotterdam Beats - Rotterdam, Netherlands
Sat. Nov. 17 - Bonsoir - Bern, Switzerland
Sun. Nov. 18 - Exil - Zurich, Switerzland
Tue. Nov. 20 - SOB's New York, NY
Sat. Dec. 1 - Washington College - Fredericksburg, VA