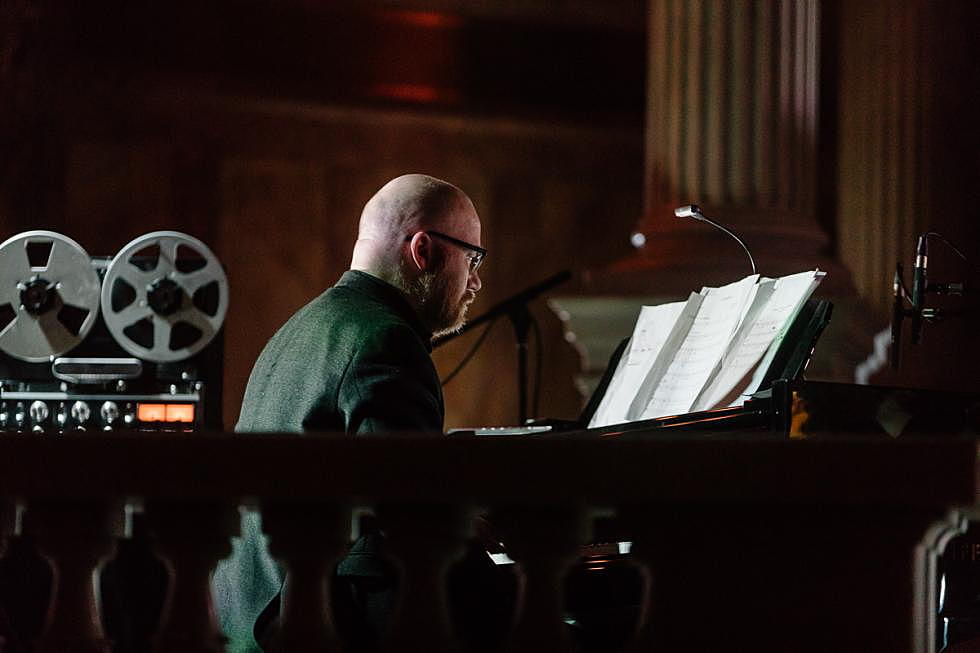 Johann Johannsson's 'Orphee' tour resonates inside Co-Cathedral of St. Joseph (pics/review)
Photo by Sachyn Mital
I've now caught five of Jóhann Jóhannsson's six performances in New York City. The first was his show at (Le) Poisson Rouge in June 2009 and the (second most) recent one being his site-specific composition 'Drone Mass', performed at The Met Museum's Temple of Dendur last year (and will be part of the 2017 Big Ears Festival). While I can't speak for the one I missed, typically the Icelandic composer has concentrated on performing works from his artist albums, not his score work (his 2012 performance at the World Financial Center was the score for The Miners' Hymns set to the film).
But 2015 and 2016 have been particularly notable for Jóhannsson, as he won a Golden Globe for his score to The Theory of Everything.  (He also has Oscar noms for that as well as Sicaro.) On that film, he collaborated with director James Marsh. But Jóhannsson has been more frequently been attached to projects by director Denis Villeneuve, including last year's Sicario (for which his score was nominated for Oscar), the forthcoming Blade Runner sequel and the imminent Arrival (out next month). The Arrival's foreboding and fascinating score is strong enough to stand alone. Even without having seen Arrival, the work conveys the sense of encountering something or someone from another world.
Arrival will be Jóhannsson's second release on the Deutsche Grammophon label. The first, Orphée, his first artist album in over six years, was released this past September and is the reason for the current tour. The reason I mention his film work is that, at some point, I hope to hear some of those pieces, like "The Force of Attraction" from The Theory of Everything or "The Cause of Labour is the Hope of the World" from The Miners' Hymns (again), in a live setting.
Even if the actual brass instruments weren't present for a performance and were instead heard via a spool of tape, it would have been grand to hear the latter resonate in the Co-Cathedral of St. Joseph on Sunday, October 23. However, it was still grand hearing Jóhannsson's desolate works, joined by the ACME ensemble, including "Flight from the City," the lead song on Orphée, and "Odi et Amo" which features an alien vocal singing the Catullus poem in its original Latin, from the pews.
Jóhannsson wrapped up his North American tour in Brooklyn and will resume touring in Europe in December. He returns to the U.S. next spring for a few shows including a show in April with the L.A. Philharmonic as part of the Reykjavík Festival which Sigur Rós are also part of.
Pictures from Co-Cathedral of St. Joseph (including ones of Robert A.A. Lowe who was also on the program) are in the gallery above, and remaining Johannsson dates are listed below.
Orphée Tour Dates:
Dec-01-16 DE, Berlin - Funkhaus Berlin
Dec-02-16 NL, Nijmegen - Doornroosje
Dec-03-16 DK, Copenhagen - Bremen Teater
Dec-04-16 NL, Amsterdam - Paradiso
Dec-05-16 BE, Leuven - 30CC
Dec-06-16 FR, Paris - L'alhambra
Dec-07-16 BE, Hasselt - CCHA
Dec-09-16 UK, London - Barbican
Feb-10-17 DE, Hamburg - Elbphilharmonie
Mar-26-17 US, Knoxville, TN - Big Ears Festival
Mar-25-17 US, Durham, NC - Duke University*
Apr-17-17 US, Los Angeles, CA - Disney Concert Hall*
Apr-18-17 US, San Francisco, CA - The Regency Ballroom*
Apr-20-17 US, Seattle, CA - Nordstrom Recital Hall*
*w/ American Contemporary Music Ensemble