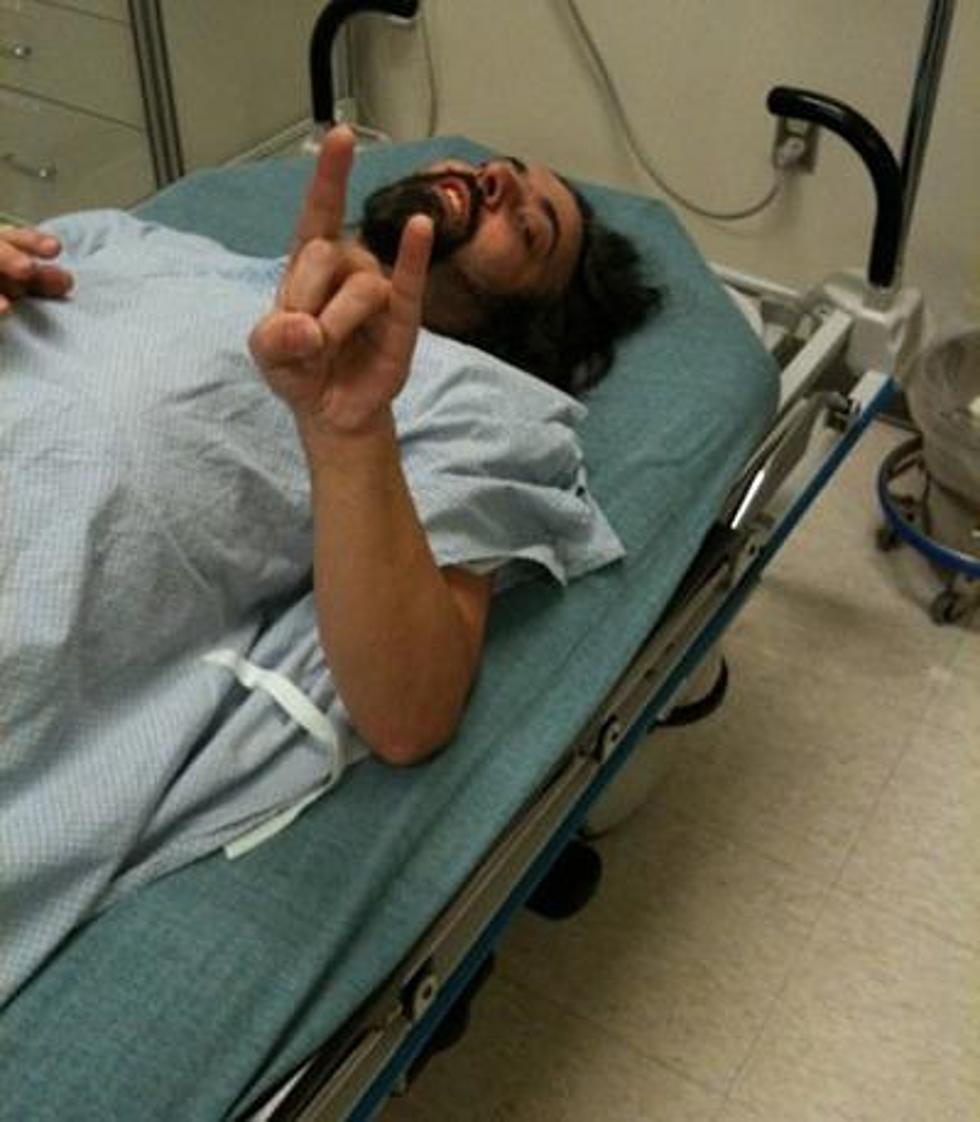 John Cobbett is in the hospital, but the Ludicra tour goes on (and Hammers of Misfortune sign to Metal Blade)
John Cobbett, always METAL.

As the tour began, the second day in the tour, guitarist John Cobbett (also the mastermind in HAMMERS OF MISFORTUNE of course) felt a pain in his stomach/abdominal area and it was revealed he had appendicitis and that his appendix had burst, along with having an abscess growing inside his body which, in a weird twist of fate, actually helped him. Prior to the tour, before the Pentagram show in SF which LUDICRA recently played, Cobbett felt the symptoms of such a sickness and went to get checked out. Even though he went to get checked out though, the ever reliable and helpful (sarcasm) doctors at San Francisco General Hospital simply dismissed it and told Cobbett there was nothing wrong with him.

So in Olympia WA, Cobbett had to be rushed to the emergency room to be tendered to. He is currently still in the hospital in Olympia and is awaiting word on the doctors of when he can re-join his band mates and is recovering really quickly. - Ludicra
The band's message continued below...

--
LUDICRA's message continued...
The outpouring from the fans of support has been immense and it just shows the kind of dedicated community a band like LUDICRA can create.

DONATION INFO

There have been people showing interest and asking on how to make any kind of donation as these medical bills continue to surmount and pile up (that's U.S. health care for you). But we have posted several donation options (which will remain active for the duration of the tour) for those who want to donate (anything helps of course) and help LUDICRA:

Option 1: If you would like to make a donation to LUDICRA/John Cobbett directly through Profound Lore, simply send a manual payment via paypal here: profoundlorerecords@gmail.com. This email address is being protected from spam bots, you need Javascript enabled to view it and in the subject line please write "Ludicra Donation" just so we can distinguish it.

Option 2: LUDICRA's friends WOLVES IN THE THRONE ROOM have also reached out to help. They have posted all their donation info etc. via their myspace blog HERE.

Option 3: Raymond Ahner, a friend of LUDICRA has created a cool poster for the band's show in Portland and is selling them. All proceed from sales of this poster will go towards LUDICRA. Go HERE to see where you can buy the poster.

Of course any updates (prior to us leaving on April 12th for Roadburn Fest) will be posted. For the most recent updates on LUDICRA, best to check our twitter account.

And of course we want to thank all the LUDICRA supporters out there who have shown their concern and support towards one of the best American metal bands today. Your support means a lot.
In other news, John Cobbett's other project Hammers of Misfortune have signed to Metal Blade! The band, which recently added Leila Abdul-Rauf of the indefinitely hiatus-ed Saros, will reissue previous releases through the imprint, building up to a new album due on the label in 2011.
LUDICRA "Tomorrow Held In Scorn" 10/02/07 @ Slim's, San Francisco, CA

LUDICRA "Awake To Grey" 8/31/07 @ 924 Gilman St, Berkeley, CA

LUDICRA - 2010 TOUR DATES
04/08 - St Paul, MN @ Turf Club
04/09 - Milwaukee, WI @ Jackpot Gallery
04/10 - Chicago @ The Underground Lounge (w/Clad in Darkness)
04/11 - Indianapolis, IN @ Melody Inn
04/12 - Lansing, MI @ Mac's Bar (w/Wastelander, Sauron)
04/13 - Rochester, NY @ Bug Jar (w/KRALLICE, CRUCIFIST)
04/14 - Toronto, ON @ Rancho Relaxo (w/KRALLICE)
04/15 - Montreal, QC @ Il Motore (w/KRALLICE)
04/16 - Portland, ME @ Geno's (w/Ocean, KRALLICE, Aok Suicide Forest)
04/17 - Boston, MA @ O'Briens (2pm day show) (w/Tombs, KRALLICE)
04/18 - Brooklyn, NY @ Europa (w/KRALLICE, CASTEVET, Attake)
04/19 - Philadelphia @ M Room (w/Lair of the Minotaur, Tombs, KRALLICE)
04/20 - Baltimore, MD @ Hexagon (w/Tombs, KRALLICE)
04/21 - Richmond, VA @ The Triple (w/KRALLICE)
04/22 - Atlanta, GA @ Drunken Unicorn (w/Music Hates You)
04/23 - Knoxville, TN @ Pilot Light
04/24 - Little Rock, AR @ Downtown Music
04/25 - Austin, TX @ Emo's
04/27 - Las Cruces, NM @ The Trainyard
04/28 - Phoenix, AZ @ Nile Basement (w/LANDMINE MARATHON)
04/29 - San Diego, CA @ Radio Room
04/30 - Los Angeles, CA @ Sabor Lounge
05/01 - Santa Cruz, CA @ Coaster's (w/Dusted Angel)
05/08 - San Francisco, CA @ Cafe Du Nord( w/Kowloon Walled City - cd release show for "The Tenant")