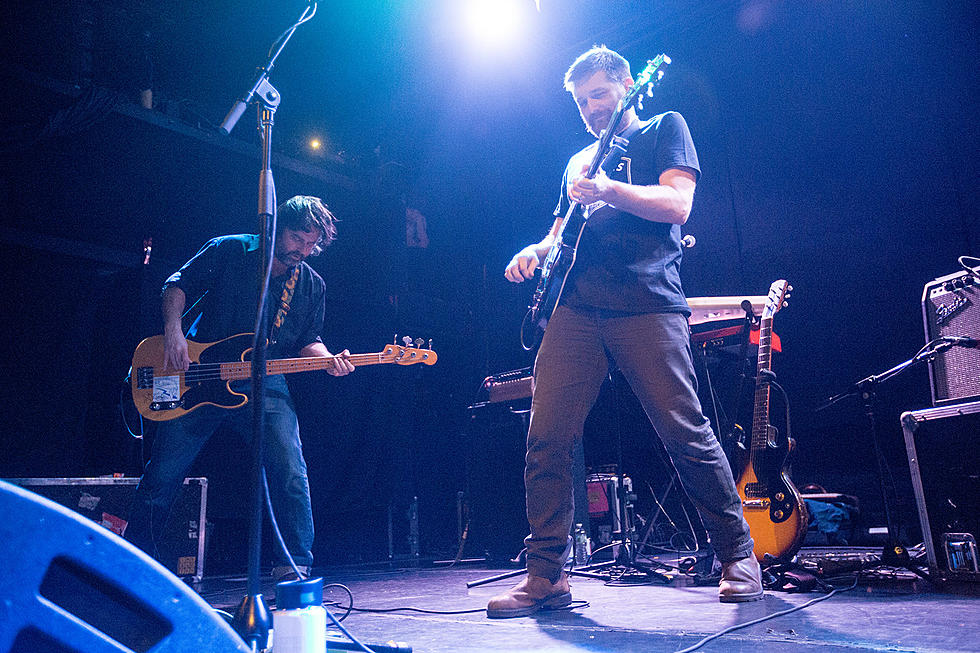 John K Samson played Weakerthans & solo songs at Bowery Ballroom (pics, review, setlist)
photo by Amanda Hatfield
"John K. Samson, postcard songs (maybe bonsai), perfect in their patience, their precision, and that's been true for a really long time, and I suspect will continue to be for as long as he elects to write them." - Kevin Devine
Former Propaghandi member and The Weakerthans frontman John K Samson released his newest solo album, Winter Wheat, in October of 2016. (Kevin Devine, The Hotelier, Touche Amore, Jake from Modern Baseball, and Frank Turner listed it among their favorites of the year, and we named it one of the best punk/emo albums of 2016.) While The Weakerthans broke up in 2015, drummer Jason Tait and bassist Greg Smith worked on this latest solo album with Samson, making it pretty close to another Weakerthans album. They came along with him on tour, too, along with Samson's partner, singer-songwriter Christine Fellows, and as a backing band they're currently called The Winter Wheat, after the album. The tour has included some dates opening for Frank Turner, and last night's (4/5) show at NYC's Bowery Ballroom was the last of a few nights with Worriers opening.
While Samson joked onstage that they currently play "middle-aged soft rock," almost half of the set was made up of Weakerthans songs, and all of it was very enthusiastically received. "One Great City," performed by Samson solo, became a big singalong, with much of the audience singing, "I hate Winnipeg," together and laughing at differences in pacing. Samson also gave Bowery Ballroom an appreciative shoutout, a venue he's no stranger to; he played a show there in support of his 2012 solo album, Provincial, and The Weakerthans played a four-night stint there in 2011, one night for each of their albums. Last night he called it his favorite place to play, and someone from the crowd quickly replied asking him to come back every year. Pictures from the show are in the gallery above, and the setlist and a few videos below.
Worriers opened last night's show playing as a duo of Lauren Denitzio and Mikey Erg. They played some new songs from an album they said they'd recently finished recording. Stay tuned for more on that.
John K Samson and The Winter Wheat at Bowery Ballroom - 4/5/17 Setlist (via)
Select All Delete
Sun In An Empty Room (The Weakerthans song)
Postdoc Blues
Reconstruction Site (The Weakerthans song)
Alpha Adept
Vampire Alberta Blues
One Great City! (The Weakerthans song)
(Hospital Vespers) (The Weakerthans song)
17th Street Treatment Centre
Bigfoot! (The Weakerthans song)
Fellow Traveller
Confessions of a Futon-Revolutionist (The Weakerthans song)
The Last And
Plea from a Cat Named Virtute (The Weakerthans song)
Cruise Night
Requests
Winter Wheat
Encore:
Everything Must Go! (The Weakerthans song)
Aside (The Weakerthans song)
Utilities (The Weakerthans song)
Virtute at Rest