John McCauley and Friends played Zankel Hall (pics); Deer Tick opening for My Morning Jacket at Capitol Theatre
John McCauley w/ Diamond Rugs @ Zankel Hall 10/27/2012

It was an evening with "John McCauley and Friends" on Saturday (10/27), the kickoff event to WFUV's 2012/2013 Live at Zankel Hall series that takes place in the downstairs listening room of Carnegie Hall. As the show's title implies, the night was hosted by the Deer Tick / Diamond Rugs frontman who brought out a variety of guests (Jason Isbell, Mark Sultan, Langhorne Slim, comedian Adam Cayton-Holland) for short sets, including ones from both of McCauley's bands, culminating in a group jam. Pictures from the show -- including a few from backstage -- are in this post.
The remaining shows in WFUV's Live at Zankel Hall series are: Lisa Marie Presley on November 17 (tickets); Loudon Wainwright III on January 26, 2013 (tickets); and The Flatlanders on April 13, 2013 (tickets).
Deer Tick will next play in the general NYC area on December 27 opening for My Morning Jacket at The Capitol Theatre in Port Chester and tickets are still available. Diamond Rugs have a few shows coming up as well, though none in the NYC area, and all dates for both bands are below along with more pics from Saturday night's show.
Mark Sultan will also play NYC again on December 7 at Union Pool with Ex Humans and Pampers. Ticket info for that show is TBA.
More pictures from the evening, including a few backstage, are below.

---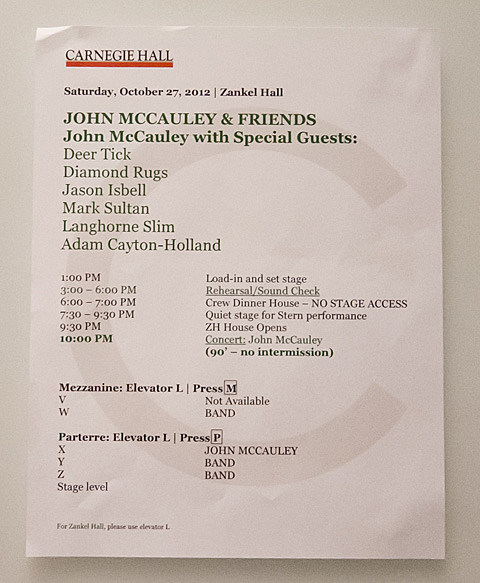 Mark Sultan and Deer Tick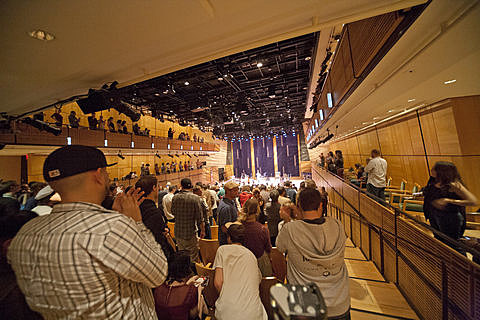 Deer Tick - 2012 Tour Dates
12.27.12 The Capitol Theatre Port Chester, NY, US My Morning Jacket
12.30.12 Fete Providence, RI, US Two Gallants
12.31.12 The Sinclair Boston, MA, US Two Gallants
Diamond Rugs - 2012 Tour Dates
10.29.12 Marathon Music Works Nashville, TN, US Turbo Fruits, Denney and The Jets, Ranch Ghost, James Wallace and The Naked Light
10.30.12 The Earl Atlanta, GA, US Gringo Star, Turf War
10.31.12 WorkPlay Theatre Birmingham, AL, US Model Citizen
11.01.12 Tulane University New Orleans, LA, US FREE
11.02.12 Fun Fun Fun Fest Austin, TX, US w/ RUN-DMC, Santigold, Refused