John McCauley & Ian O'Neil (and Jonny Corndawg) played City Winery (and Union Pool)
John & Ian & barrels of wine

After a rousing opening set by duo The Shivers, Deer Tick frontman John McCauley and Deer Tick guitarist Ian O'Neil (who also used to be in Titus Andronicus) took turns playing completely solo and with each other at their show at City Winery in NYC last night (1/19). In front of an over-packed house, they each used their voices and guitars as instruments, and sometimes John sat down at the piano. Speaking of sitting down, that's what most of the crowd was doing, at their tables where food, beer, and especially wine were flowing. Others were standing around the edges of the spacious venue because there weren't any seats left.
The setlist was heavy on Deer Tick classics that I was especially happy to hear stripped down, included brand new unrecorded songs (often the ones Ian sang), Middle Brother songs (including the song "Middle Brother" with assistance from special guest and audience member Jonny Corndawg who helped write the song), a Replacements cover, and a John Prine cover. They closed with a festive cover of Buddy Holly's "Oh Boy." The only dissapointment was that John had a piano at his disposal and he didn't use it to play "Christ Jesus."
The merch table had Jonny Corndawg-created Beavis & Butthead (John & Ian) airbrushed shirts for sale, and the venue was selling limited edition bottles of City Winery-made John McCauley 'petit shiraz' wine (pictures below).
Go catch John and Ian on tour with each other now, catch Corndawg out on tour with Dawes, and see Middle Brother when they tour with Deer Tick and Dawes in March (tickets are still on sale for both NYC shows). Everyone's dates are listed HERE.
More pictures and some videos from City Winery, and videos from Union Pool too, below...


John

Ian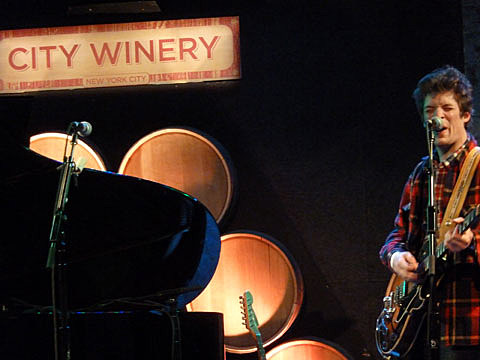 John @ Piano

John on guitar

McCauley & Corndawg

Sink or Swim- John McCauley @ Union Pool

I Can't Stay Here Anymore- John McCauley @ Union Pool

John McCauley & Ian O'Neil @ Union Pool

Middle Brother- John McCauley and Jonny Corndawg @ Union Pool

Deer tick acoustic city winery