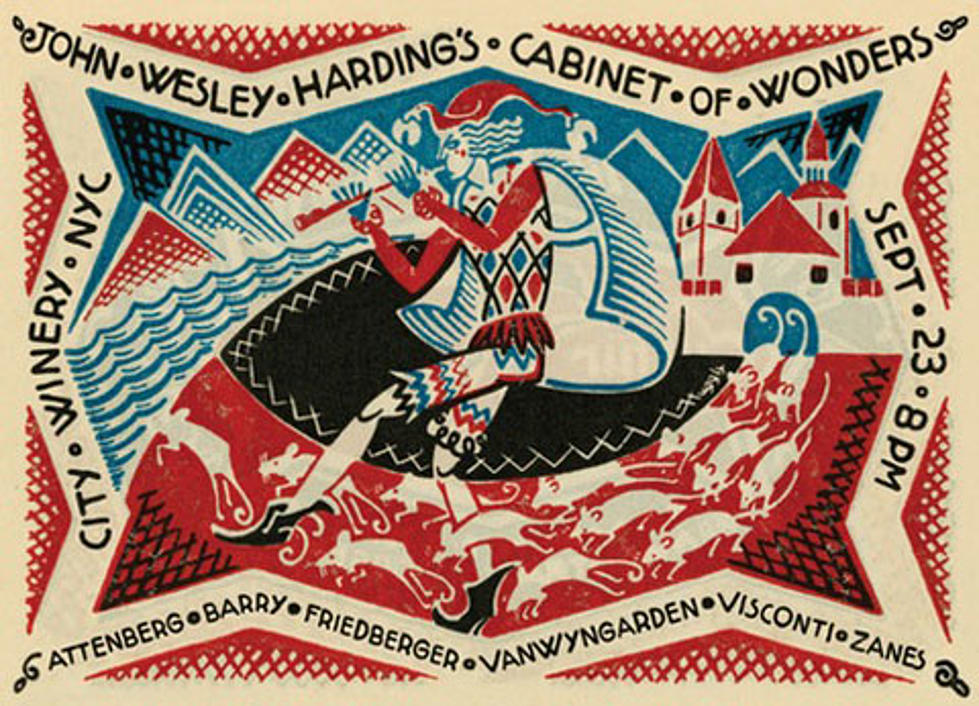 John Wesley Harding shows, The Minus 5, Robyn Hitchcock, MGMT, Eugene Mirman, Todd Barry & others too
John Wesley Harding (aka Wesley Stace) has three 'Cabinet of Wonders' scheduled at City Winery for his second season this fall. The dates scheduled are September 23, October 28, and November 18. Each night features a collection of special guests. The first night (9/23) includes Eleanor Friedberger (of Fiery Furnaces), Andrew VanWyngarden (of MGMT), Todd Barry, Jami Attenberg, Tony Visconti, Dan Zanes, and more TBA. The October 28 lineup includes Hamilton Leithauser (The Walkmen), Eugene Mirman, John Hodgman, Emma Straub, Paul Harding, and more TBA. The November 18 lineup includes Howe Gelb, Eugene Mirman, Audrey Niffenegger, and Myla Goldberg. Check the Cabinet of Wonders website for updates on the shows. Tickets are only on sale for the first one at the moment.
John Wesley Harding also appears with 'friends' and Josh Ritter at the New York Public Library on December 6. The show starts at 7 PM and will be held in the Celeste Bartos Forum. The event is listed as discussion/reading/singing.
All dates and a video of a past Cabinet of Wonders below...

--
Cabinet of Wonders at City Winery 3/11/11

John Wesley Harding -- 2011 Tour Dates
August 19 Pittsfield, MA Shawn's Barbershop (Reading/Singing_
September 23 New York, NY City Winery Andrew VanWyngarden (MGMT), Tony Visconti and more... (CABINET OF WONDERS)
October 1 Collingswood, NY Collingswood Book Festival (Reading)
October 28 New York, NY City Winery Guests to be announced (CABINET OF WONDERS)
November 5 San Francisco, CA Red Devil Lounge w/ The Minus 5
November 6 Santa Monica, CA MaCabe's Guitar Shop
November 11 Portland, OR Aladdin Theater w/ The Minus 5
November 15 Philadelphia, PA World Cafe Live
November 18 New York, NY City Winery Guests to be announced (CABINET OF WONDERS)
November 19 Brooklyn, NY The Bell House w/ The Minus 5
November 20 Hoboken, NJ Maxwell's w/ The Minus 5
December 6 New York, NY New York Public Library w/ Josh Ritter (Discussion/Reading/Singing)