Johnny Marr was joined by Andy Rourke for two Smiths songs at Webster Hall (pics, video, setlist); Marr played 'Fallon' too
Johnny Marr w/ Andy Rourke @ Irving Plaza, 11/16/2013

Johnny Marr's second tour of North American this year hit NYC on Saturday (11/16) at Irving Plaza. I didn't catch most of Meredith Sheldons' opening set set because the MTA decided that the L train shouldn't run again this weekend, which is a shame. A shame because the MTA is a wanker, and a shame because Meredith Sheldon is a beautifully morose, sulky kind of singer, and with Johnny Marr's son Nile on guitar she really made me wish I had of been there for the whole time.
I'm fairly sure every babysitter in NYC was hired Saturday, because this was the first show I've been to in a long time where I felt young. The average age of the crowd was mid thirties and everyone was out to have a good time, and get wasted on wine -- like classy people do. The Ipad sized phones held up the entire show to record things seemed unnecessary and were really irritating. I heard about two $400 tickets up for sale for this sold-out show on Stubhub three hours before the show -- and they got sold! (Tickets were originally $25).
Johnny was here tonight to promote his new album The Messenger. All the songs he played off that album were fantastic, including the title track, which is full of New Order-ish guitar driven melodies, singles "Upstarts" and "New Town Velocity" - which was lilting and lovely.
Response to the new songs was great -- unlike some shows like this, people seemed to have actually listened to his new album -- but the crowd got very excited for The Smiths songs (I won't call them covers, because Johnny cowrote them all) of which six were played, including "Panic," "Stop Me If You Think You've Heard This One Before," "Big Mouth Strikes Again" and, final song of the night, "There is A Light That Never Goes Out." (There was a LOT of singing along.) The crowd went totally nuts, though, near the end of the night, when Marr brought out his friend since childhood and Smiths bandmate Andy Rourke, much as he did at Music Hall back in May. When Andy and Johnny teamed up on the amazingly cool "How Soon Is Now?" and then "Please, Please Please, Let Me Get What I Want" -- goth 90s teen me definitely died a little inside. The crowd went appropriately wild. Video of both and pictures from the show, plus the setlist, are in this post.
My favorite tune of the night though, apart from the obvious Smiths Johnny and Andy collaborations, was "Getting Away With It" by Electronic -- his band with Bernard Sumner from New Order and Neil Tennant from Pet Shop Boys. Fucking genius. All in all Johnny seemed thrilled to be onstage in NYC and playing with Andy again, and he appeared to be completely in his element. Looking forward to him returning to NYC.
While in town, Marr (who we just interviewed) stopped by Late Night with Jimmy Fallon again to perform "Generate! Generate!" from The Messenger and then a web exclusive of "Please Please Please." You can watch both below and, as you can hear, Marr does a fine job singing Morrissey's lyrics...and that riff still thrills.
Johnny Marr's tour rolls on and if you'd like to see him at one of his remaining North American dates, we're giving away a pair of tickets to the show of your choice. Video of the Fallon plus more pics from Marr's Webster Hall show, below...

--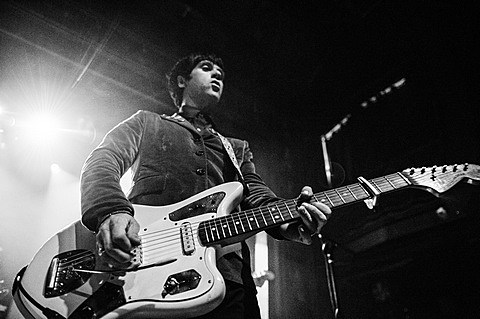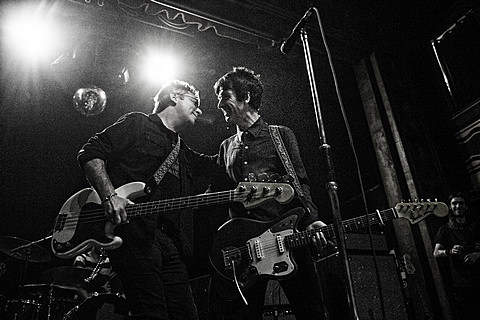 Johnny Marr w/ Andy Rourke - "How Soon is Now?" @ Webster Hall, 11/16/2013

Johnny Marr w/ Andy Rourke - "Please Please Please Let Me Get What I Want" @ Webster Hall, 11/16/2013

Johnny Marr - "Generate! Generate!" on Jimmy Fallon

Johnny Marr - "Please Please Please Let Me Get What I Want" on Jimmy Fallon

SETLIST: Johnny Marr @ Webster Hall, 11/16/2013
Upstarts
Stop Me If You Think You've Heard This One Before
The Right Thing Right
Sun & Moon
Crack Up
Panic
New Town Velocity
The Messenger
Lockdown
Say Demesne
Generate! Generate!
Bigmouth Strikes Again
Word Starts Attack
I Want the Heartbeat
How Soon Is Now?
Encore:
Please, Please, Please Let Me Get What I Want
The It-Switch
I Fought the Law
Getting Away with It
There Is a Light That Never Goes Out