Jon Brion (& Rhett Miller) @ Canal Room, NYC | pics
JON BRION

Jon Brion came to NYC (from LA) to record something for a Les Paul tribute album. While here, he booked three shows at the Canal Room. I caught the first one (Oct 25, 2005). Unfortunately the show started an hour late (I think the will call list was numerical instead of alphabetical), and it ended rather quickly due to the impending late show. Actually it didn't end THAT quickly, but compared to the 3.5 hour set (jammed with covers) the late show got, I guess I feel a little jipped... :( ...just kidding (we got Rhett Miller...they didn't). It was magnificent. I'll say no more because heartonastick nails it. Another good review at Life Goes Off.
RHETT MILLER OF THE OLD 97'S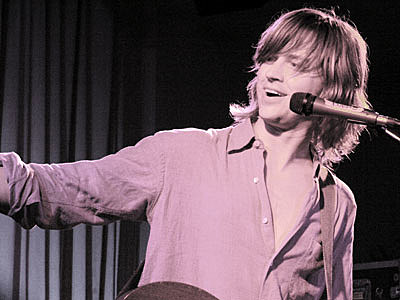 After this show I actually had a ticket to the Jon Brion late show and one to Wolf Parade at Northsix. I know I missed an awesome late show, but at least I was able to sell the ticket AND didn't have to eat my Wolf Parade ticket (and Wolf Parade was good), AND I got to sleep before the late show even ended.