Jonathan Richman played 3 nights @ MHOW (Valentine's pics)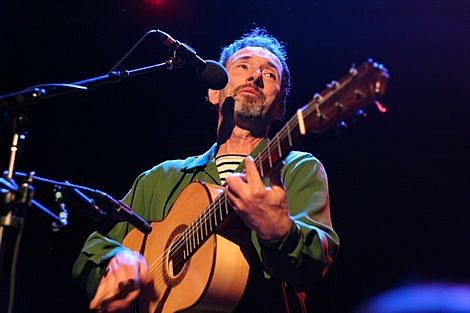 Jonathan was paired as always with his long-running drummer Tommy Larkins (who he's working on a new album with), and they riffed on the classics: "I Was Dancing in the Lesbian Bar" with an extended dance sequence, the rocking, extra-weird "No One Was Like Vermeer," and deconstructed Modern Lovers tracks "Old World" and "Pablo Picasso." Picking apart those first-album songs, with plenty of perspective on his own lyrics (digging into his use of the antiquated phrase "pick up girls"), was particularly enjoyable. The anti-techology, pro-human-contact shuffle "You Can Have a Cellphone, That's OK, But Not Me" was a good reminder for anyone stuck to their computer or phone most hours of the day (his label, Vapor Records, writes amazing things like: "Please note that Jonathan Richman does not have any direct involvement with the Vapor Records website and does not participate in the internet on any level").
Overall, the set was similar to (if looser than) his summer 2009 shows at Bowery Ballroom (one difference being the somber absence of Vic Chesnutt, who was never mentioned but his presence was felt in the tour's unfilled opening spot). The Valentine's Day touch did make it special for the crowd (like some go to church to get refreshed, others go to see Jonathan Richman). He talked freely in and out of his songs about his own romance and its lows and highs. One Juliet in the house even brought up a bouquet of flowers, which sent him beaming. He closed out the night with "Le Printemps Des Amoreux Est Venue," and, politely asking permission to play just two more, added "Mr. Sorrow" and the perfect "Not So Much to be Loved as to Love."
More pictures and a video are below...


"my baby loves me more than i know" @ MHOW