Jonny Corndawg, Robert Ellis & Shovels and Rope played Mercury Lounge (pics)
photos by Chris La Putt
Corndawg & Ellis @ Mercury Lounge

Of all the unique characters at the South by Southwest Music Conference last week, few stood out like Jonny Corndawg.
A twangy song picker from rural Virginia -- "I never really quite fit in there, which explains a lot," he says -- the real-life Jonny Fritz made a striking figure physically in Austin, with his rail-thin frame under a wide-brimmed cowboy hat. He was conspicuous musically, too, with a traditional yet rowdy, trucker-brand country sound and a status as one of Rolling Stone's 25 artists to watch at SXSW 2012. Part of the buzz is built on an upcoming album he just made at Jackson Browne's studio, backed up by his pals in the L.A. band Dawes.
Maybe the thing that made the Corndawg stand out the most was the tour vehicle parked outside his gigs. He drives a maroon Mercedes-Benz Sprinter van with "Corndawg.com" emblazoned across the back.
"I've been saving up for that thing for about three years," beamed the broad-smiling countryman. [StarTribune]
And you should hear its horn! (it and its musical horn drove by me at least once at SXSW this year.)
As promised, the Jonny Corndawg / Robert Ellis / Shoves & Rope train, or should I say Sprinter, pulled into NYC for a show at Mercury Lounge last night (4/2). Here are some pictures. More below...

--
Robert Ellis
Shovels and Rope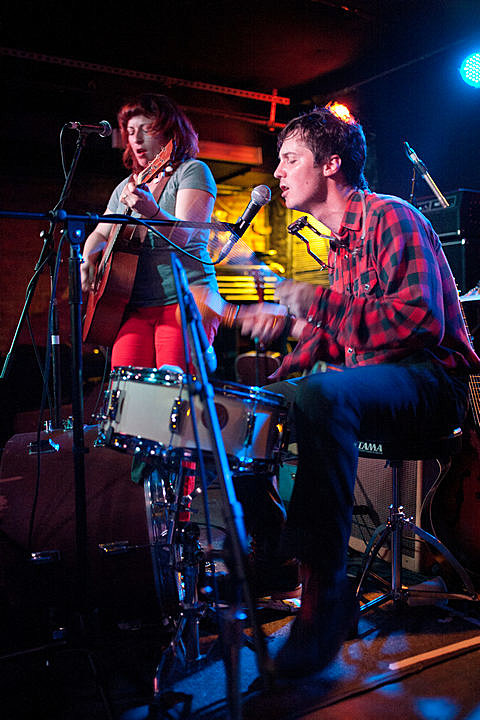 Jonny Corndawg