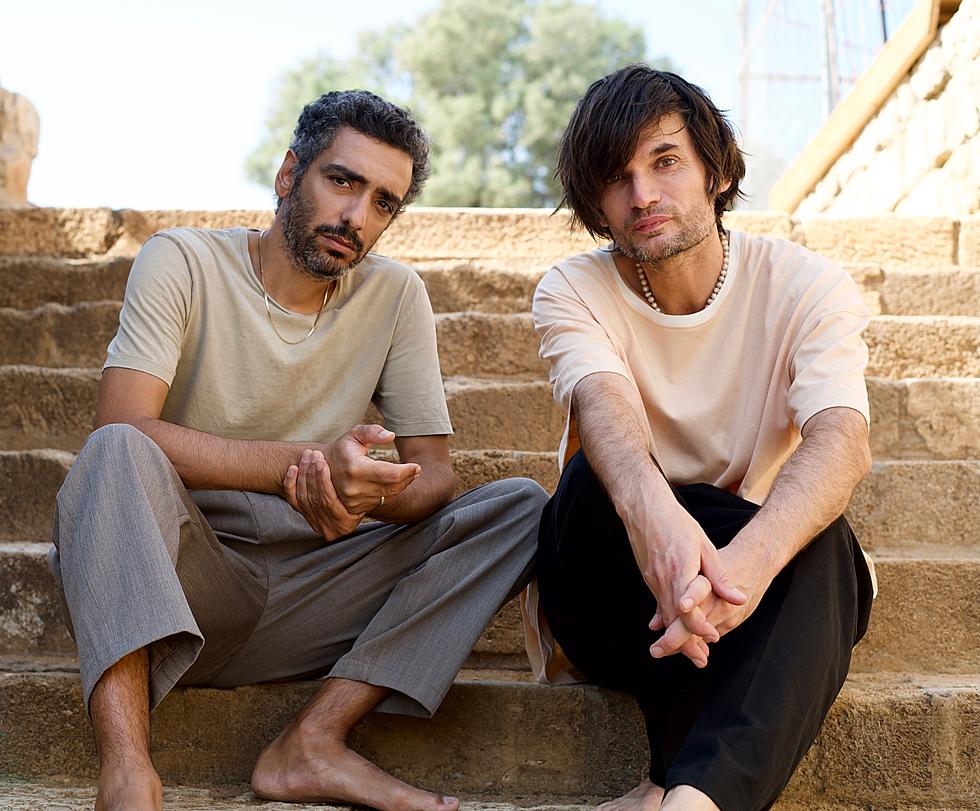 Jonny Greenwood & Dudu Tassa announce collab LP, share "Ashufak Shay" feat. Rashid al-Najjar
photo: Shin Katan
Radiohead and The Smile's Jonny Greenwood and Israeli musician/producer Dudu Tassa have announced a collaborative LP, Jarak Qaribak, due June 9 via World Circuit Records. The album was mixed by Nigel Godrich and produced by the duo themselves. In writing and producing the music, they called on an array of Middle Eastern musicians as collaborators, including Ahmed Doma, Nour Freteikh, Mohssine Salaheddine, and more. Check out the artwork and full tracklist for Jarak Qaribak below.
Jonny first heard Dudu's music on a trip to Israel with Radiohead in the early 2000s, and they first collaborated on Dudu's 2009 album Basof Mitraglim Le'Hakol (In The End You Get Used To Everything). "When people listen to this music," Dudu says of the new album, "I really love to imagine them thinking…what is this? It sounds 1970s, but there are drum machines, there are guitars but they're singing in Arabic…what's going on?" Jonny adds, "What Dudu was doing had its roots in the Middle East, and I just found that more interesting. I was hearing that music at home a lot, as well."
The first taste of Jarak Qaribak is "Ashufak Shay," which features Lebanese vocalist Rashid al-Najjar. Reverbed guitar and Middle Eastern flutes blend with woodwinds, swirling piano and pulsing drums. Listen below.
Jonny Greenwood will be back in North America later this year when The Smile tour this summer, including a stop at NYC"s Forest Hills Stadium on July 7.
JARAK QARIBAK TRACKLIST
1. Djit Nishrab (feat. Ahmed Doma)
2. Ashufak Shay (feat. Rashid Al Najjar)
3. Taq ou-Dub (feat. Nour Freteikh)
4. Leylet Hub (feat. Mohssine Salaheddine)
5. Ya Mughir al-Ghazala (feat. Karrar Alsaadi)
6. Ahibak (feat. Safae Essafi)
7. Ya 'Anid Ya Yaba (feat. Lynn A.)
8. Lhla Yzid Ikthar