Jonsi & Death Vessel @ Terminal 5 (night 2) – pics & video
photos by Dominick Mastrangelo
"omg omg I love you sigur ros you make me cry @sigurros and thank you jonsi for an amazing concert last night at terminal 5" - Andrew
jónsi: it's super scary. i dunno why. there was a big confusion because first of all i'd been in sigur rós for 15 years. and all of a sudden i went from this safe environment of having three other guys to bounce ideas off. when i get tired i could tell them to take over. it was so easy. i didn't actually realise until i went into this project when i had to do everything myself; everybody's coming and asking things and you have to pretend to know. it's also confusing because this album was supposed to be a small side step from sigur rós - not quitting or anything like that - they were all off having babies, not me. so i thought it was prefect timing to do something else. the first idea was to have a really low-key acoustic album but then it exploded into something totally different. the first demo was acoustic guitars, piano and ukulele. then songs became crazier and i had people in mind i wanted to work with like nico muhly. he's amazing. he did all the arrangements with strings and brass. then there was no holding me back. we were in my apartment and he had one small keyboard and a computer and he did five songs in a night. he is so hyper active; it was really fun and exciting. he had worked on some albums that i heard and liked the arrangements because they were not like sigur rós. i didn't want to have sigur rós arrangements. i wanted something crazier than the obvious choice.
Sigur Ros frontman Jonsi (and opener Death Vessel) played two nights in a row (with his band) at Terminal 5 in NYC over the weekend. We already posted pictures and video from the first night (Saturday). Sunday night, including a series of six videos taken from above, below...

--
Death Vessel...
Jonsi...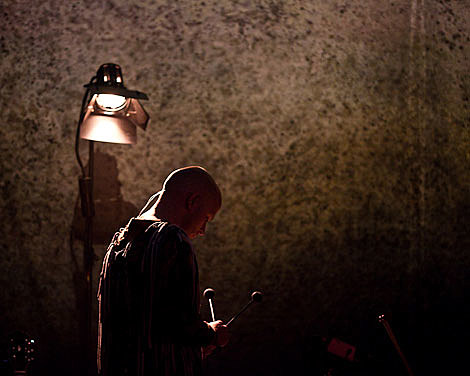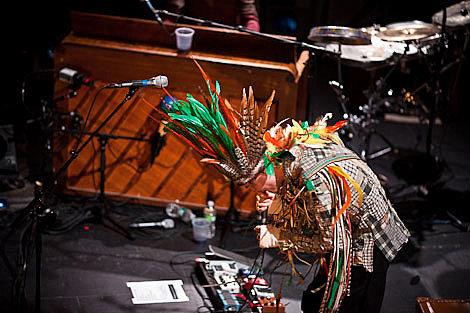 Jonsi 1 from Fumi Nagasaka on Vimeo.
Jonsi 2 from Fumi Nagasaka on Vimeo.
Jonsi 3 from Fumi Nagasaka on Vimeo.
Jonsi 4 from Fumi Nagasaka on Vimeo.
Jonsi 5 from Fumi Nagasaka on Vimeo.
Jonsi 6 from Fumi Nagasaka on Vimeo.