Jonsi played Hammerstein Ballroom & Fallon (pics & video)
Washington Post: You've said that before you made a solo album, you felt as if you'd been in a cocoon. Did making the album give you more confidence?

Jonsi: For me, you mean? No. Maybe, yeah.

Do you think it will affect how you make albums with Sigur Ros?

Maybe. It was a good experience to do this, working with a lot of new artists and musicians and producers. It's healthy to work with different people.

Do you think you'll work with Nico Muhly again? You should say yes.

Yes. He's a fun guy to be around, anyway. So we definitely might do something together.

You've said you grew up listening to Metallica. For real?

Yeah, Metallica and Megadeth and stuff like that. But now I just listen to Billie Holiday and Django Reinhardt and stuff like that....It's nice to have in the background, like a comfy sofa.
Shock. A talented and versatile artist listens to a wide array of bands! ANYWAY, Jonsi played Hammerstein Ballroom last night (11/10), his final US date of a massive two part tour that also brought him to Terminal 5 in May over two nights (pictures of the second show). The final round also included a stop at Jimmy Fallon for a performance of "Sticks & Stones", which also aired last night.
Mountain Man opened the show, but we have no pictures of them unfortunatley. More of Jonsi, some video, and that Fallon appearance video are all below...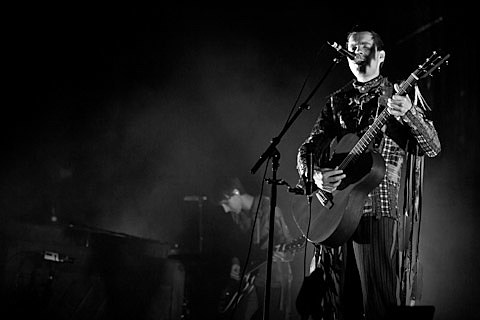 Jónsi Birgisson (Sigur Ros): Hengilas. Hammerstein Ballroom, NYC 2010-11-10

Jonsi - Hammerstein Ballroom 11/10/10 MONTAGE



Jonsi on Late Night with Jimmy Fallon