Josh Ritter & Felice Bros @ Terminal 5 (pics, videos, setlist)
photos by Robert Altman
Josh Ritter @ Terminal 5 - 5/18/13

In "Lights," the concluding track of Josh Ritter's new album The Beast In Its Tracks, Ritter sings "Every heart on Earth is dark half the time," an apt line that seems to sum up Ritter's unique brand of potent folk/rock and poetic lyric. Ritter, a realistic romantic, paints extraordinary love songs with settings that range from an Egyptian tomb to a government controlled missile silo, but balances these resplendent short stories with tales of lost love and regret. The heart is dark half the time.
But...it's ablaze the other half of the time, and this vivacious beating organ was on display at Terminal 5 this past weekend when Ritter and his dashing Royal City Band wholeheartedly rocked a packed crowd with a satiating 20-song set. [The Music Court]
Josh Ritter and The Felice Brothers just wrapped up a tour they were on together in NYC over the weekend at Terminal 5 (5/18). Pictures and videos of both bands, plus Josh Ritter's setlist from the show are in this post.
More below...

---
The Felice Brothers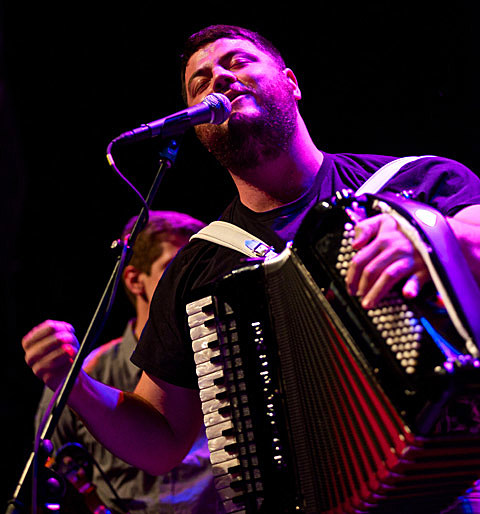 Josh Ritter
Josh Ritter - "Change of Time" at Terminal 5 - 5/18/13

Josh Ritter - "Southern Pacifica" at Terminal 5 - 5/18/13

The Felice Brothers at Terminal 5 - 5/18/13

Josh Ritter at Terminal 5 - 5/18/13 Setlist: (via)
Idaho
Southern Pacifica
Hopeful
Rumors
Evil Eye
Lillian, Egypt
The Curse
Joy To You Baby
New Lover
Folk Bloodbath
The Temptation of Adam
Change of Time
Snow is Gone
Good Man
In Your Arms Again
Wolves
Right Moves
Kathleen
Encore:
Lights
To the Dogs or Whoever