Judas Priest played Barclays Center, Dave Hill was there (duh) — review, pics & setlist
Gregory R. Cristman
Thursday night I went to see Judas Priest at the Barclays Center, the place usually reserved for concerts by the rapper Jay-Z in Brooklyn, and that shit was fucking awesome, especially if you like Judas Priest, which duh. Here's what happened. First, my friend Dave, who knows I am basically the biggest Judas Fucking Priest fan of all-time and I should probably be in the fucking band and you can ask anyone, gave me some extra tickets he had to the show and I was like "Thanks, Dave, you're the best!" until my friend Rob, who has a job, called to tell me that he had FOUR FUCKING TICKETS to sit in the sweetass VIP LUXURY BOX the place where he works owns so I told Dave to go fuck himself and threw the tickets he gave me in the trash. Anyway, fast forward like 45 minutes and I'm walking into the Barclays Center and you could tell all the people who worked there were just like "Why isn't this dude going in the band entrance or something?" because of my strong rock look. I had a leather jacket on and everything. But then I just flashed my VIP LUXURY BOX TICKET and they ushered me through some special doors where everything smelled much better. Then I got on some elevator with my friends and some other fucks and I said "I hope Solange doesn't beat the crap out of me!", which was a humorous reference to the time the R&B star Beyonce's sister smacked the shit out of the rapper Jay-Z in an elevator that everyone on the elevator seemed to get a real kick out of. Sometimes it's hard to know how to act on an elevator but I like to think I helped everyone relax.
A couple minutes later, we were totally in the fucking VIP LUXURY BOX, which was awesome. Normally at concerts I like to be down on the floor in the front row because the band seems super pumped about it and the makeout potential (with super hot chicks) is much better but I am definitely down for mixing it up with some VIP action every once in a while too. The cool thing about the fucking VIP LUXURY BOX is that everything in there is totally free. You can grab like six beers from the fucking fridge and no one is gonna say shit about it. And when you get done with those you can grab six more. Fuck it. Also, there was a nice chicken dish with those fingerling potatoes that look like dicks, and also hot dogs, which- yeah, I know- also look like dicks but calm down. There was also a vegetable plate so vegetarians can have some shit to eat too if they think they're gonna pass out or something.
Anyway, I got myself a fucking hot dog (normally I don't like relish but the kind they had was actually pretty good), cracked open a cold one and went to sit down at front of the VIP LUXURY BOX with my friend Marc, who came from work. As soon as I did, like 80 hot chicks down below whipped there heads around to look at me like they wanted to bone but I didn't have time for that shit because I was there for Priest, not to give some hot chick the best night of her life. Steel Panther was still on at this point and they were good but a part of me was also like get off the fucking stage right now or I will come down there and kick all four of you guys in the taint cuz I want to see Judas Priest right fucking now and I pretty much speak for everybody here on this one, thanks.
After Steel Panther ffinished, I went to take a monster piss in the VIP FUCKING BATHROOM down the hall, which has way better urinals than the bullshitty ones regular people at the Barclays Center have to use. While I was in there, the guy taking a leak next to me was all like "The Rangers are winning" and I was like "Calm down- this doesn't mean we're dating." Then I got the fuck out of there.
When I got back to my seat in the VIP LUXURY BOX, there was a giant banner in front of the stage that said Judas Priest on it and I was super pumped.
Judas Priest about to hit the stage and @mrdavehill is ready. #judaspriest #barclayscenter
Then like two minutes later, the banner falls down and all of a sudden everyone in Judas Fucking Priest but Rob Halford is standing there like they were gonna kick everyone's asses and it was awesome. They start jamming fucking "Dragonaut" (not the Sleep song, duh) from their new album which is awesome but still seems fucking nuts when you know how to play "Heading Out to the Highway" or something instead. Then a couple seconds after that, Rob Fucking Halford walks on stage covered in leather and I almost pissed my tight rock jeans even though I had just gotten back from taking a massive leak. Anyway, Rob is singing, it's the fucking best and we are both basically owning the entire Barclays Center. Some people say Rob has trouble hitting the notes like he used to but it didn't matter because I had that shit covered. You could tell everyone sitting near me was like "Holy shit."
After the first song, Judas Fucking Priest launched into "Metal Gods", an awesome song about me and the guys in Judas Priest. It should be noted at this point that K.K. Downing, one of the original guitarists in the band, quit a few years ago and they have this new guy Richie Faulkner who is totally sweet at guitar but compared to me it's just like "You're kidding, right?" The thing is though I don't even know if I'd have time to be in Judas Priest right now because I have other shit going on. Sometimes life is all about timing and I hope Rob Halford and the rest of the band understand that. Anyway, Glen Tipton is still in the band and is awesome at guitar and has cool hair. Even so, a lot of the time he just stands there like he's making a salad or something and sometimes I'm just like "Get your shit together- you're in Judas Fucking Priest!" The cool thing, though, is that the bass player, Ian Hill (No relation. That I know of! Hahahahaha. Mom?! I am kidding. Haha), looks like he was cryogenically frozen in 1982 and then thawed out right before the show and he fucking breaks out the rock moves the entire show like he's not even really trying. If Glen Tipton would turn around even once during the show he'd be like "Ian Hill (no relation) is fucking owning me right now!" but whatever.
Anyway, the show took a dark turn when they played their ballad "Beyond the Realms of Death", which made me have to sit down a second and think about my own mortality and also how this chick's ass was in my way for a second. But I got over that fast because then Rob Halford came out on a fucking Harley for "Hell Bent for Leather" and it was the greatest thing ever to happen in North America. He also wore like nine different leather jackets during the show, which ruled. Most singers are lucky if they can wear like three jackets tops.
After "Hell Bent for Leather", the whole band went back stage to check out some tits and high-five I bet before coming back out for the encore, which included my personal anthem "Living After Midnight" and then another one. Personally, I think it's fucking insane that Judas Priest didn't play "Heading Out to the Highway", "Hot Rockin'", or "United" and I hope someone has a long fucking talk with them about it and then they can have a good long think about it on the bus, but Judas Priest is still so good at being Judas Priest it's not like I can stay mad at them. I bet if Jay-Z tried to ride a motorcycle on stage he couldn't even handle that shit for like two seconds. Also, he sucks at rapping. The drummer for Judas Priest is Scott Travis. I would like to be in their band.
Judas Priest continue on tour and play Izod Center in NJ on 10/17 before continuing towards Texas to co-headline Fun Fun Fun Fest. More pictures and the setlist from Brooklyn, below...

---

Now Judas Priest is playing one from their new album. It's sweet but I'm waiting for something from British Steel before I lose my shit.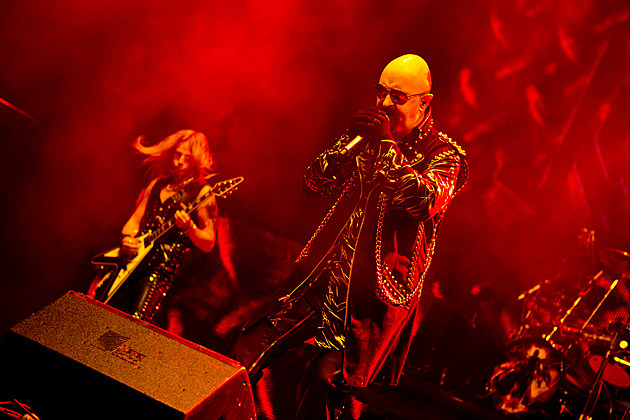 🔈🔥🔈🔥🔈🔥🔈🔥🔈🔥🔈🔥🔈🔥🔈🔥🔈 #judaspriest #barclayscenter
Fuckin' Priest just hit the stage! This rules basically.
That's someone's beer in the air. #judaspriest #barclayscenter
Judas Priest Barclays Center setlist
Dragonaut
Metal Gods
Devil's Child
Victim of Changes
Halls of Valhalla
Love Bites
March of the Damned
Turbo Lover
Redeemer of Souls
Beyond the Realms of Death
Jawbreaker
Breaking the Law
Hell Bent for Leather
You've Got Another Thing Comin'
Living After Midnight
Defenders of the Faith (Preceded by Heavy Duty snippet)
---