Kaiju Big Battel Saturday & other future events @ The Yard
Brooklyn's outdoor venue near the Gowanus Canal, The Yard, has six more events currently scheduled this season. The final one involves Jose Gonzalez and NY Magazine. Two of them are this weekend and one of those involves big monsters wrestling (Aug 23, 2008). Tickets are on still sale for Saturday's Kaiju Big Battel show. Nick Hook, Junk Science, Team Facelift and Peelander-Z are also on the bill. It starts at 4pm. The NY Mag Islands thingee ends at 5. There seems like a chance you could do both. Flyer below...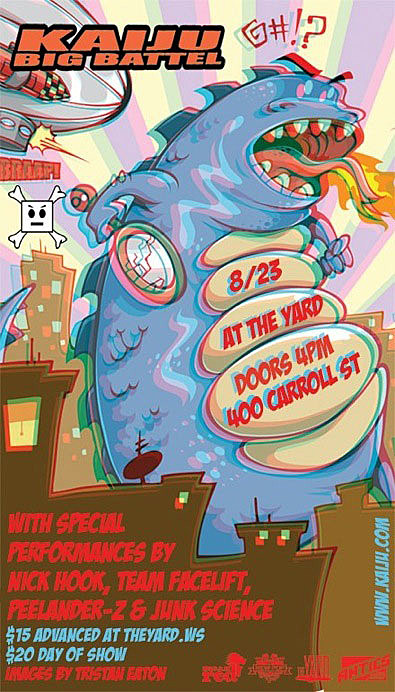 Kaiju Big Battel's upcoming BBQ in Brooklyn was shaping up to be one of the biggest Battels ever, and that was before the main event was announced! Now, in perhaps the most star-studded, deadliest match of all time, the Kaiju Commissioner has decided that Dr. Cube will team up with human professional wrestler Chris Hero against Kaiju Heroes American Beetle and Hero Intern '08! Get yours tickets now to witness this destined to be legendary fighto in person.
What: Kaiju Big Battel at The Yard in Brooklyn
Special Performances By: Evil Dee, Team Facelift, Peelander-Z
Where: The Yard, 388-400 Carroll St, Brooklyn, NY
When: Saturday, August 23rd
Doors: 4pm
Tickets: $15 Adv/$20 Day of Show; All Ages