Kaiju Big Battel happening in NYC this month with guest referee Peelander-Yellow
Kaiju Big Battel @ BB King's, 2011 (more by Chris La Putt)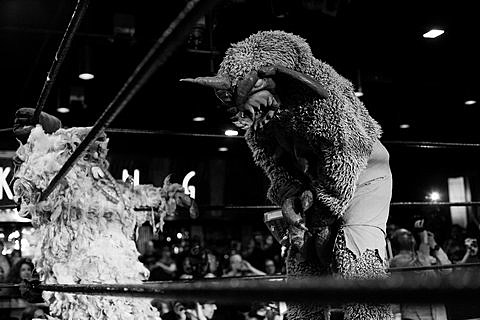 The wrestling-meets-japanese-monter-movie spectacle that is Kaiju Big Battel is invading NYC again on July 20 at Stage 48. Here's what to expect:
Be there as #13 and Hell Monkey fight to decide who will rule the Posse in the absence of Dr. Cube. Will Hell Monkeys seniority rule the day or will the ruthless #13 send the satanic simian running with his tail between his legs!

Be there as Monger King VS Dusto Bunny for the Arm Wrestling Championship Belt!

Be there as Cycloptopuss tries to hold on the mythical hammer against Slo Feng, its rightful owner!

Be there as Special Guest Referee Peelander Yellow tries his hand at maintaining order!

Be there as Danger happens in front of your very eyes!

Be there!
Helping keep some kind of order to the meyhem and destruction will be guest referee Peelander-Yellow of interstellar rock band Peelander-Z (who will be at September's Riot Fest in Chicago). Tickets for Kaiju Big Battel are on sale now.
Check out a Kaiju Big Battel video, plus the flyer for the show, below...

---