Kaki King, Kiran Gandhi, Amy Leon, Bridget Kearney & more played 'The Hum' at Manhattan Inn (pics)
The fourth and final installment of the October edition of The Hum at Manhattan Inn happened last night. Like at the other Hum shows, it brought together musicians from various corners of the music world for unique collaborations. The venue was packed all night, with the crowd spilling out of the showroom into the hall and sitting on the floor rows deep. Rachael Pazdan, who puts the series together, said it was the most packed she'd seen it.
The first act was a trio with violinist Jeanann Dara, singer Katie Von Schleicher (of Wilder Maker) and Rose Blansnei (of Prima). They sounded like they should be a band themselves, and I would certainly listen if they were. They combined violin, guitar squeals and piano with Katie and Rose both doing vocals at times. Also billed for this one was Rachael Price (of Lake Street Dive and who we caught handling Grace Slick's parts for Hot Tuna's Jefferson Airplane at at Lockn') but she didn't end up playing.
The second trio was Alisha Roney (of Feathers+Eyes), Amy Leon and Bridget Kearney (of Lake Street Dive). Amy did this spoken word piece riffing on the futility of trying to help someone get out of an abusive relationship that was incredibly moving, over really excellent backing by the other two. Amy and Alisha also sang, together and solo, with Bridget trading off between guitar and piano.
The third and last act of the evening was a duo, guitar great Kaki King and Kiran Gandhi (of Madams Gandhi). Their set was mostly entirely instrumental, until Kiran led the crowd in a two part overlapping rhythmic vocal chant that she then beatboxed over. Kaki and Kiran also played drums together at one point.
Kaki King is also part of the just-announced initial lineup for Winter Jazzfest 2016. More pictures of The Hum below...

---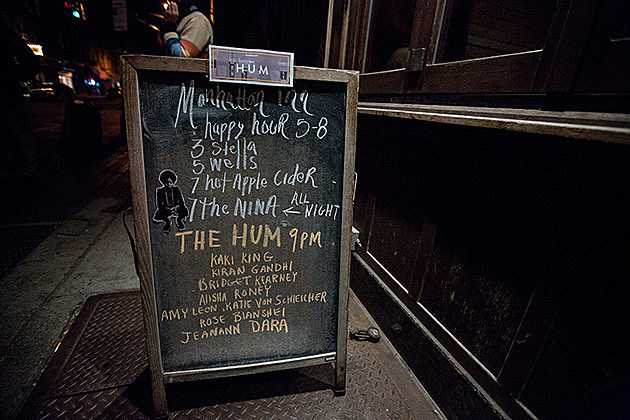 Katie Von Schleicher, Jeanna Dara, & Rose Blanshei
Bridget Kearney, Alisha Roney, & Amy Leon