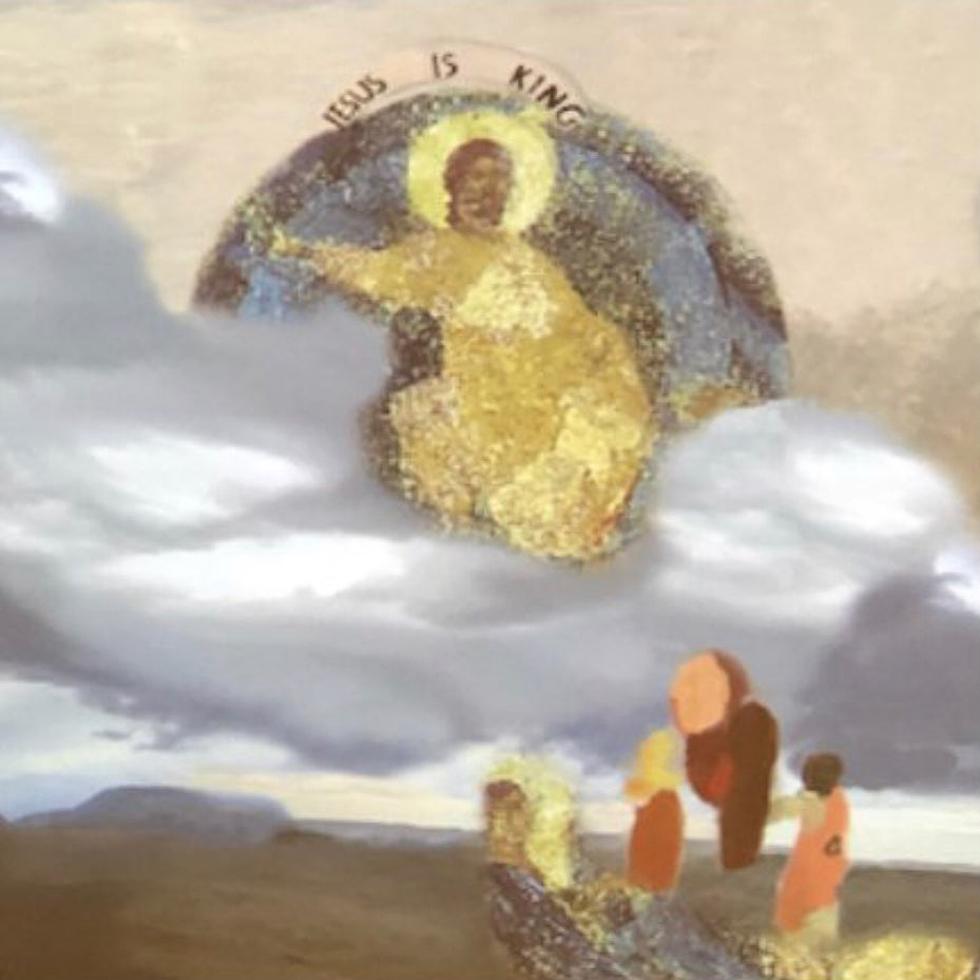 Kanye held 'Jesus Is King' event at United Palace, freestyled at a church in Queens
Kanye still hasn't dropped the album, but spent the day in NYC yesterday (9/29) promoting it. First, he did one of his Sunday Services at The Greater Allen A.M.E. Cathedral of New York in Queens, where -- as The FADER points out -- he grabbed the mic and freestyled during the service.
Then at night, he held one of his Jesus Is King events -- which preview his documentary film (which is expected to hit IMAX theaters on October 25) and album (which was supposed to be released already) of the same name -- at United Palace in Washington Heights. He had previously done similar events in Detroit and Chicago. The event sold out almost immediately, and apparently only had about 1,000 people inside (and a whole lot more than that outside), and according to Billboard's review, Kanye took the opportunity to screen portions of the film and hold a listening party for the album which "seems to be unfinished." The version he played last night featured a Clipse reunion on a song that also features Kenny G, plus songs with Ty Dolla $ign, Fred Hammond and Ant Clemons. The album reportedly features Nicki Minaj too but her verse wasn't played last night.
Kanye said he was done making secular music, and will only make gospel from here on out, but you can hear some clips of the album via fan-shot videos below, and it seems like at least some parts still sound more like rap than gospel. Billboard also talks more about the album in their review. Here's an excerpt:
"New York City is definitely one of my hometowns," he told the crowd. "I wasn't fully saved during Coachella. I came to know the truth and joy of Jesus. This album is an expression of the gospel." West moved right into fulfilling album opener "Beauty From Ashes," where he seems to shed his ego. "I come to you empty, free of my pride," he pleads.

Track No. 2, "Follow God," features some of West's most passionate rapping on the entire album. To fully bring the word of the gospel to NYC, Kanye instructed fans to fill the aisles and stand up, which temporarily created a more raucous environment, as a riled up mosh pit of fans joined him on stage, but were quickly told to move back once West was notified that the stage might collapse. Daughter North and son Saint kept the party going by dancing on stage for much of the night, as Kim Kardashian filmed the adorable Kodak moments from off to the side.

The electronic "On God" immediately jumped out as a standout cut from West's latest body of work. Kanye chimed in that he actually crafted the track with emerging rapper-producer Pi'erre Bourne, as Yeezy confidently boasts that he's "the greatest artist resting or alive" on the opening verse.

[...] A notable change heard Sunday was the re-recording of "Selah," one of the few tracks featuring thunderous drums on the project. Lines such as "everyone want Yandhi, my cousins mad at my auntie" have questionably been flipped to "everyone wanted Yandhi, but Jesus did the laundry." The castrated "New Body" has also been added back onto the album's fluid track list, but the Ty Dolla $ign-assisted track is still missing a new verse courtesy of Nicki Minaj.
You can read more about the album here and see the tentative tracklist, some fan-shot pictures and videos from the event, and the video of Kanye freestyling at a church in Queens, below. Kanye also debuted the album artwork (designed by Tessa Matthias) on screen, and that's the art above.
Kanye's busy weekend also included him making a surprise appearance on stage with Chance the Rapper in Chicago:
Tracklist
1. Beauty From Ashes
2. Follow God
3. On God
4. Closed On Sunday
5. Water (Feat. Ant Clemons)
6. Selah
7. New Body (Feat. Ty Dolla $ign & Nicki Minaj)
8. L.A. Monster
9. Hands On (Feat. Fred Hammond)
10. Use This Gospel (Feat. Clipse & Kenny G)