Kanye West, Common, Erykah Badu, Kid Cudi, Consequence & friends @ Fader Fort (SXSW 2009) – pics, setlist
True - it was the worst kept secret and the most corporate plumping event of all of SXSW (if Kayne would have worn grillz sporting the The Levi's® logo, it would have completed his Levi's® outfit) - but that doesn't mean Saturday night's show at the Fader Fort wasn't one of the best (3/21). Kayne West acted like a grand circus ringmaster - introducing his whole G.O.O.D. record label crew including Consequence, GLC, and his prized diamond rapper all-star Kid Cudi. Then, just when you got sick of Kayne's world, in came fellow Chi-towner Common sweating out "Universal Mind Control." And then, like Mary Poppins on uppers, Kayne smiled and pulled out yet another prized gem from backstage: the gorgeous divine Erykah Badu (who is a Texas native and was wearing full-sequined silver pants- the combination of which got a hot scream from the crowd). To close out, like a big, super-talented brat pack, the entire G.O.O.D. crew came back on stage and danced around to songs from West's 808s. Whether you love him or hate him, Kayne sure knows how to party (or promote).
More pictures and the entire setlist below...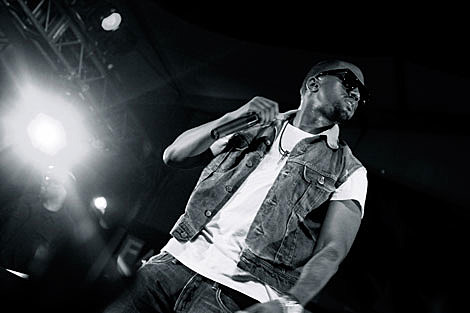 Setlist (via RS):
"Amazing" (Kanye West)
"The Good, The Bad, The Ugly" (Consequence ft. Kanye West)
"Don't Forget Em (Consequence)
"Gone" (Consequence ft. Kanye West)
"Drive Slow" (Kanye West ft. GLC)
"Big Screen" (GLC ft. Kanye West)
"Spaceship" (Kanye West ft. GLC and Consequence)
"Disperse" (Consequence ft. GLC and Really Doe)
"We Major" (Kanye West ft. Really Doe)
"Plastic" (Really Doe ft. Kanye West)
"Crack Music" (Kanye West and Malik Yusef)
Malik Yusef interlude
"Diamonds Are Forever (Kanye West)
"Getcha Some" (Big Sean)
"Way Out" (Big Sean & Mr. Hudson)
"Anyone But Him" (Mr. Hudson ft. Kanye)
"Stay Up!" (Viagra) (88 Keys ft. Kanye West)
"Everybody" (Fonzworth Bentley)
"Welcome To Heartbreak" (Kanye West ft. Kid Cudi)
"Sky Might Fall" (Kid Cudi)
"Buggin' Out '09?(Consequence ft. Kid Cudi)
"Day 'N' Nite" (Kid Cudi)
"Universal Mind Control" (Common)
"Get Em High" (Kanye West ft. Common)
"The Light" (Common ft. Erykah Badu)
Freestyles (Common, Erykah Badu and Kanye West)
"Heartless" (Kanye West)
"Paranoid" (Kanye West ft. Kid Cudi and Mr. Hudson)
"Good Life" (Kanye West)
"Love Lockdown" (Kanye West)