Kanye West & Jay-Z played MoMA's Garden Party (pics, video)
photos by Bao Nguyen
Jay-Z & Kanye West on display @ the Museum of Modern Art

At the tail end of his set at MoMA's Party In The Garden benefit afterparty last night (5/10), Kanye West was joined by none-other than Jay-Z to work out "H.A.M." before West stepped away from center stage (shocking, I know) to make way for HOV and his rendition of "Empire State of Mind". It was a riotous closing to a set that allowed plenty of time for Mr. West to shine too. Kanye played 45 minutes of hits from across his output. The setlist included "Power," "Run This Town", "Hell of a Life", "Can't Tell Me Nothin'", "Runaway", "Flashing Lights" and "The Good Life". Pictures and video from the museum show are in this post.
BONUS: someone posted Kanye's entire Coachella set as a download. You can also listen to that in its entirety, with the rest of the MoMA pics and video, below...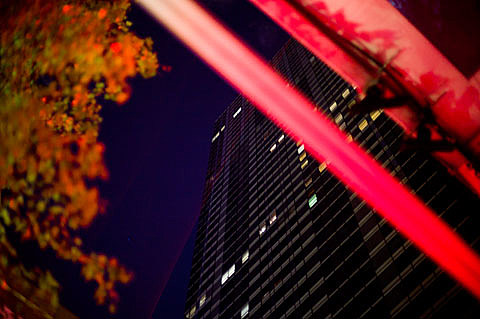 Kanye West and Jay-Z - Empire State of Mind from Bao Nguyen on Vimeo.
Kanye West at MoMA

Kanye Supernatural at the Moma - 5/10/2011

Kanye West and Jay-Z Empire State of Mind MoMA

Kanye West and Jay-Z at MOMA 5/10/11

Kanye and Jay-Z at the Moma - 5/10/2011

Kanye + Jay-Z. Empire State of Mind. Moma. 5/10/2011