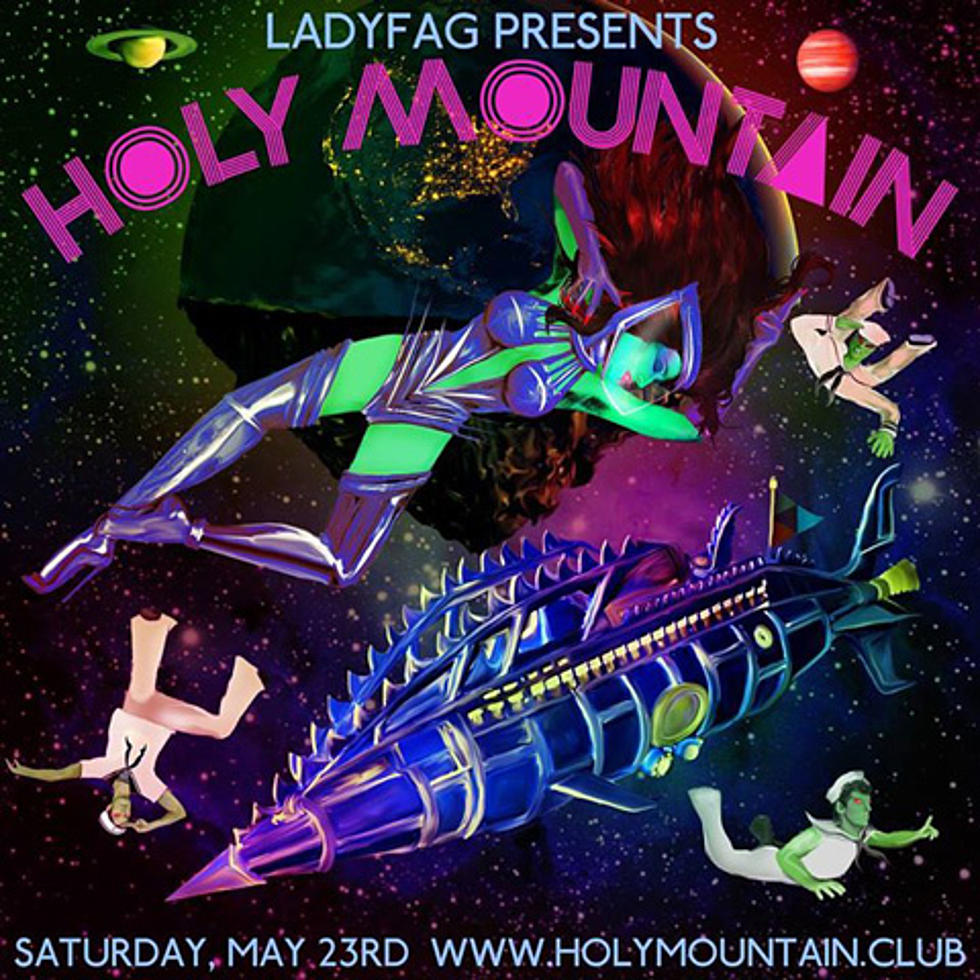 Karin of The Knife DJing "Holy Mountain" party this weekend; shopping/DJ event 'Pop Souk' coming to Webster Hall
It's Fleet Week here in New York and with Memorial Day Weekend ahead, what better way to celebrate than a big, crazy party with Karin Dreijer Andersson from The Knife DJing? Presented by nightlife promoter Ladyfag, the event's called "Holy Mountain" and happens on Saturday (5/23) at Slake. Also DJing: Dgeral (who'll be spinning with Karin), Misshapes cofounder Greg K and lots more.
It's $10 before 11:30 PM and $15 after, or $10 all night if in "SERIOUS Fleet week or Space LQQK." Details and flyer are below. This is the first we've heard from Karin since The Knife called it quits following their Shaking the Habitual tour last year .
In related news, Ladyfag is also part of this year's Pop Souk which happens May 31 at Webster Hall. Pop Souk mixes club culture with shopping: "a pilgrimage where the cool cats come to socialize, listen to DJs... & shop!" It goes from noon - 6 PM and will take over the entirety of Webster Hall that day, and is free to attend. Flyer and vendor list for Pop Souk is below...

---
JADE ROOM:
Beats by:
KARIN & DGERAL
(Of THE KNIFE & FEVER RAY!!!!)
LAUREN FLAX
Astronauts:
JASON RODGERS
STEPHANIE STONE
RUBY ROOM:
Beats by:
JUBILEE (Mixpak)
DICAP
Aliens:
LA'FEM LADOSHA
RAUL LOPEZ
NELLKE
AHARAW
GITOO
SAPPHIRE ROOM:
Beats by:
GREG K. (The Misshapes)
MATT KAYS
Sailors:
GUYTON PORTER
CHAPMAN
OBSIDIAN ROOM:
Beats by:
MICHAEL MAGNAN
NITA AVIANCE
Captains:
MARCO OVANDO
DOMONIQUE ECHEVERRIA
MISS QUEEN SATEEN & EXQUISITE
THE CULTURE WHORE
WILL "GIANT" SHERIDAN
SEE YOU ALL IN URANUS, SAILORS!!
xx
LADYFAG
† ☨ ✞ ✝ ☥ ☦ ☓ ☩ ☯ ☧ ☬ ☸ ✡ ♁ ✙ ♆
DOOR: Cyrus & Eric De La Cruz
$10 b4 11:30
$15 after
$10 all night in a SERIOUS Fleet week or Space LQQK!!!
Get there early...waiting in line ain't cute! ;)
POP SOUK - Vendor / DJ list
Alex Streeter
Amy Louisa Wilde
Alotta Stuff Vintage
Almost ALWAYS Vintage
Andrea Montle/ JJ Louis- TBC
Arms & Armory
Autobody
Badacious
Bad Brilliance
BCalla
Beloved Little Lamb
Bond Hardware
Ben Copperwheat
Chris Habana
Chocolatina Productions
Ciao Downtown
CLFF
CUN[TEES]
Daniel Silverstein
Demestiks NY/ Reuben Reuel Riddick
Deryck Todd
DEGEN
Dominique Echeverria
Edas jewels
Gabriel Held Vintage
Geoffrey Mac
Gerlan
Haute Chocolate
Heidi Lee
Hirsute Heroines
H0LES
Ian Sklarsky
I Still Love You NYC
Jack & G
Landeros New York
LADYFAG
Luar Zepol
Made in Lieu
Mandate of Heaven
Martin Keehn
Materia Prima NYC
Metagasm
Mirett
Modaomi
Mordekai by Ken Borochov
Moves FONY RHLS
Naomi Yasuda Nails
No Tee No Shade
Perepaix
The Plastic Age
Purevile
Reds Vintage Threads
Rood Boi
Sext Pixels
SHADE
Sir New York
Solomon Eversole Designs
Stella
Strangè
Sumner & Company
Tableaux Vivants
Theresa Dapra
Tilly and William
Triple Gemini Vintage
Valentine Amarré
Vita E Liberta
Whatever 21
Wild Medicine
Yuasa
YC: Ying Chu
Zits and Sparkle Diva
MORE VENDORS BEING ANNOUNCED SOON!!
Music by:
AHBS
Dicap
Doomdab
Joey LaBeija
Mazurbate
Nelleke
Valissa Yoe