Karin of The Knife sang 'Heartbeats' LIVE @ Westway to Bill Murray who earlier sang w/ Emma Stone for Sharon Van Etten (pics & video)
Karin of the Knife & friends performing 'Heartbeats' @ Westway (5/1/2014)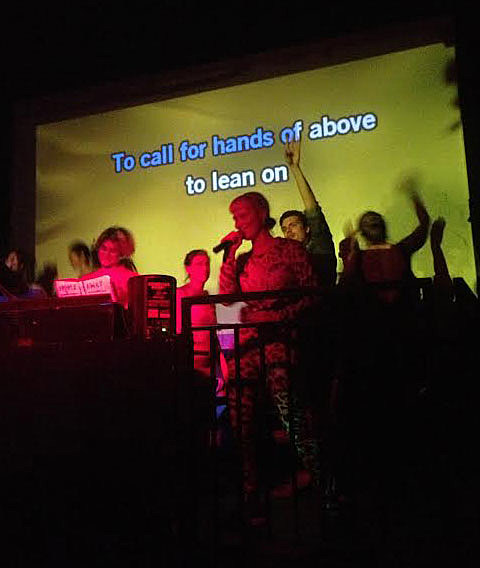 The Knife celebrated the end of their sold out 2-night run at NYC Terminal 5 late last night with an afterparty at nearby Westway. Among those in attendance and on the dance floor was Bill Murray may have no idea who the Knife are, but regardless he got to see lead Knife vocalist Karin Elisabeth Dreijer Andersson (aka Fever Ray) perform "Heartbeats" LIVE during a karaoke session at the club.
At first they played the song as part of the karaoke and she didn't get up to sing, but after much cheering from the crowd which included the Knife backup dancers, she eventually did get up and do it when they played it again. The Knife are not performing the hit song on this tour (and when they do it is as part of a massive production), so that was a rare treat for those in attendance at the intimate ex-strip club near the West Side Highway in Manhattan. Pictures and videos of the action are in this post. Watch below.
Hours earlier, possibly while the Knife was still playing Terminal 5, Bill Murray was spotted with Emma Stone at the Rum House bar at the Edison Hotel... by Sharon Van Etten who snapped a picture of the two actors performing a duet at the piano, much to the delight of one lucky bachelor party that was also happening there.
Pictures of the Knife at Terminal 5 are HERE. More pictures and video from Bill Murray's night, below...

--
KARIN SINGING HEARTBEATS KARAOKE STYLE @ WESTWAY

(another short clip below)
Bill and Emma earlier at the hotel....
Bill partying at Westway...
at first they played the song without Karin:
then with her (longer video above):