Kastle released 'Stay Forever,' touring (dates & streams)
Picasa
by Andrew Sacher
It's not really news anymore that artists have been emerging all over the world who stylistically fit the description of "UK bass," even if they don't hail from the location that the genre implies. We've heard great interpretations of the music from NYC's FaltyDL and Montreal's Jacques Greene (just to name a couple), and with his Stay Forever EP that came out this past June, San Francisco producer Barrett Richards, aka Kastle, continues to offer his spin on it from his home out west. Stay Forever follows two equally impressive EPs from 2011 (Time Traveler and So You) and some various singles, all of which fit nicely into the post-dubstep niche of atmospheric bass, clunking garage beats, and chopped vocal manipulations. You can stream some songs from those EPs and Kastle's remix of Frank Ocean's "Pyramids," below.
Kastle, who you may have seen with Kingdom, Dunes, and Sleepyhead at Drom this past July, will be supporting Stay Forever with a tour of North America and Australia/New Zealand which kicks off this Friday (9/28) in Barrett's hometown of San Francisco. The tour brings him back to NYC on October 6 at Glasslands for a show with Sleepyhead, Lamin Fofana (who just played a Weird Magic party), and Sonkin. Tickets for that show are on sale now.
A list of all tour dates, the tour flier, and those song streams are below...

---
Kastle - "Stay Forever"

Kastle - "Time Traveler"

Kastle - "So You"

Frank Ocean - "Pyramids" (Kastle Remix)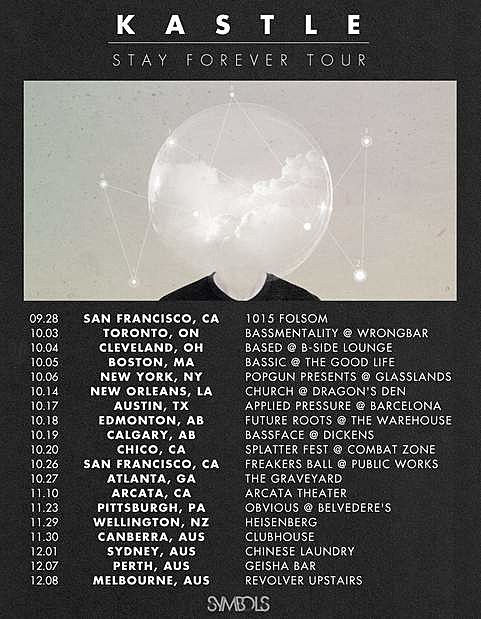 Kastle -- 2012 Tour Dates
09/28 San Francisco, CA - 1015 Folsom w/ Jimmy Edgar & George FitzGerald
10/03 Toronto, ON - Bassmentality @ Wrongbar
10/04 Cleveland, OH - Based @ B-Side Lounge w/ Jaw Jam & Druid Cloak
10/05 Boston, MA - Bassic @ The Good Life
10/06 Brooklyn, NY - Glasslands w/ Sleepyhead, Lamin Fofana, Sonkin
10/14 New Orleans, LA - Church @ Dragon's Den
10/17 Austin, TX - Applied Pressure @ Barcelona
10/18 Edmonton, AB - Future Roots @ The Warehouse
10/19 Calgary, AB - Bassface @ Dickens w/ J:Kenzo
10/20 Chico, CA - Splatter Fest @ Combat Zone w/ Eprom & NastyNasty
10/26 San Francisco, CA - Public Works
10/27 Atlanta, GA - The Graveyard
11/10 Arcata, CA - Arcata Theater w/ Starkey & Ital Tek
11/24 Pittsburgh, PA - Obvious @ Belvedere's
11/29 Wellington, NZ - Heisenberg w/ Bassnectar
11/30 Canberry, AUS - Clubhouse
12/01 Sydney, AUS - Chinese Laundry
12/07 Perth, AUS - Geisha Bar
12/08 Melbourne, AUS - Revolver Upstairs