Kate Tempest played Mercury Lounge (pics) & Rough Trade (review), doing free reading in Brooklyn tonight
Kate Tempest @ Mercury Lounge 3/24/2015

"Don't clap, it'll make it cheesy," Kate Tempest told the crowd at Rough Trade, heartfelt, as she enthused about playing her first show in MC mode in Brooklyn, home to heroes like Mos Def and Biggie. This was the last show of her first American tour -- "a trip that absolutely changed my life" -- and she was positively beaming onstage. You couldn't help but smile or shout back at her genuine enthusiasm. Backed by an excellent band that included her producer/collaborator Dan Carey on synthesizers, a drummer (everything seemed to be played live to me) and a backing vocalist, Tempest absolutely mesmerized from the second she hit the stage. It is hands-down the best live performance I've seen this year.
She is not the female version of The Streets. She is not Lady Sovereign. See her live and you'll know. The songs on her debut album, Everybody Down (based on her new novel, Hold Your Own) and are detail-rich stories of everyday people trying to connect in a world of constant distractions. Being human to each other, doing things that matter, never giving up -- subjects that are not new but Tempest delivered with passion and conviction and serious flow. We need more like her.
Interesting side note: one of the things that gives Kate Tempest's album such a distinctive sound, musically, is the use of the ribbon-controlled Swarmatron analog synthesizer, which Dan Carey played last night. Leon Dewan, creator of the machine, was at the Rough Trade show and Kate gave him a big shout-out from the stage.
Kate played Mercury Lounge with opener Jack Garratt on Tuesday (3/24) and pictures from that show are in this post. NYC has one last chance to catch Kate Tempest this go-round, albeit in a different format. She'll be at the WORD bookstore in Greenpoint tonight (3/26) at 7 PM to celebrate the US release of her books Brand New Ancients and Hold Your Own. It's free, but WORD is small so get there early.
Kate will be back in May, playing Governors Ball. More pics from Kate Tempest's Mercury Lounge show, plus setlists from both NYC shows, below...

---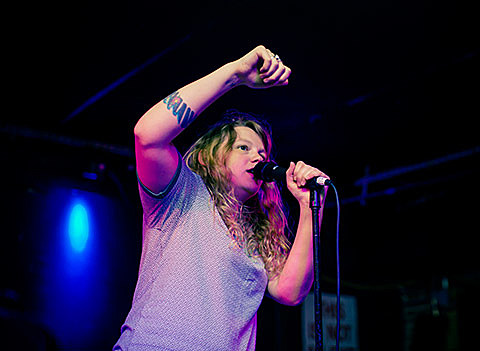 SETLIST: Kate Tempest @ Mercury Lounge 3/24/2015
The Beigeness
Marshall Law
Truth
Lonely Daze
Hold Your Own
Chicken
The Heist
Bad Place For A Good Time
Circles
Happy End
Hot Night Cold Spaceship
SETLIST: Kate Tempest @ Rough Trade 3/25/2015
Marshall Law
Truth
Lonely Daze
Hold Your Own
The Beigeness
The Heist
Bad Place For A Good Time
Circles
Happy End
Hot Night Cold Spaceship
Progress