Keelhaul, STATS, Defeatist, Unearthly Trance & Minsk @ Public Assembly (Show No Mercy) in Brooklyn – pics
© Justina Villanueva
words by Black Bubblegum, photos by Justina Villanueva
Keelhaul

"...I am a huge fan. Keelhaul is a very esoteric band, and an only sporadically active one at that. But still, more people should know them. This is because they are simply outstanding at playing rock & roll. The show of theirs I caught last December--a warm-up for the recording of their latest album, Keelhaul's Triumphant Return to Obscurity (two tracks stream here), which comes out August 18 on Hydra Head--was solid, but this was much better. They'd been on the road for a few days, and their performance had that bullish energy that can only come from consecutive gigs..."
[Hank Shteamer of STATS]
The BV-BBG Show No Mercy event was a success, thanks in part to killer performances by Keelhaul, Minsk, Unearthly Trance, Defeatist, and STATS, but mostly due the people who made it out on a Sunday night! Thanks to everyone who was involved, especially the guys in Keelhaul who were stuck in the car for eight hours just before arriving/setting Public Assembly ablaze.
The next TWO Show No Mercy events are already mapped out! September will showcase the first EVER show for GNAW featuring Alan Dubin of Khanate (we profiled them here), as well as a solo Mick Barr, and Castevet with one more TBA. As discussed, the October edition will take place at Market Hotel and will feature Mt Eerie, Liturgy, and the recently added Malkuth.
More pictures from Sunday below...

STATS...
Defeatist...
Unearthly Trance....
Minsk...
Keelhaul...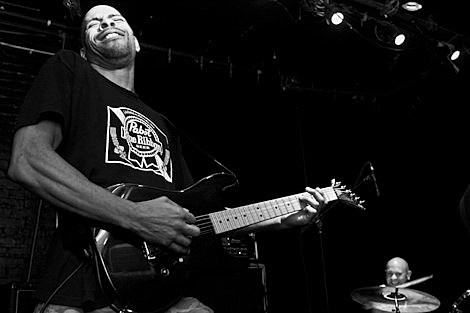 Pictures from Friday's Repulsion show HERE.