Keelhaul, STATS, Defeatist, Unearthly Trance & Minsk @ Public Assembly (Show No Mercy) in Brooklyn – pics
© Justina Villanueva
Keelhaul

"...I am a huge fan. Keelhaul is a very esoteric band, and an only sporadically active one at that. But still, more people should know them. This is because they are simply outstanding at playing rock & roll. The show of theirs I caught last December--a warm-up for the recording of their latest album, Keelhaul's Triumphant Return to Obscurity (two tracks stream here), which comes out August 18 on Hydra Head--was solid, but this was much better. They'd been on the road for a few days, and their performance had that bullish energy that can only come from consecutive gigs..."
[Hank Shteamer of STATS]
The BV-BBG Show No Mercy event was a success, thanks in part to killer performances by Keelhaul, Minsk, Unearthly Trance, Defeatist, and STATS, but mostly due the people who made it out on a Sunday night! Thanks to everyone who was involved, especially the guys in Keelhaul who were stuck in the car for eight hours just before arriving/setting Public Assembly ablaze.
More pictures from Sunday below...

STATS...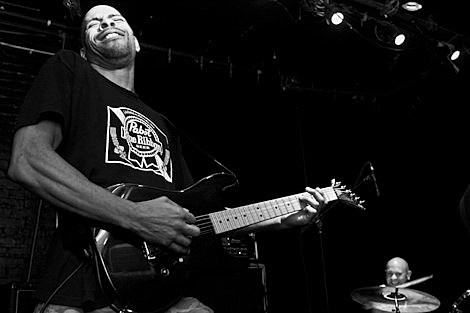 Pictures from Friday's Repulsion show HERE.