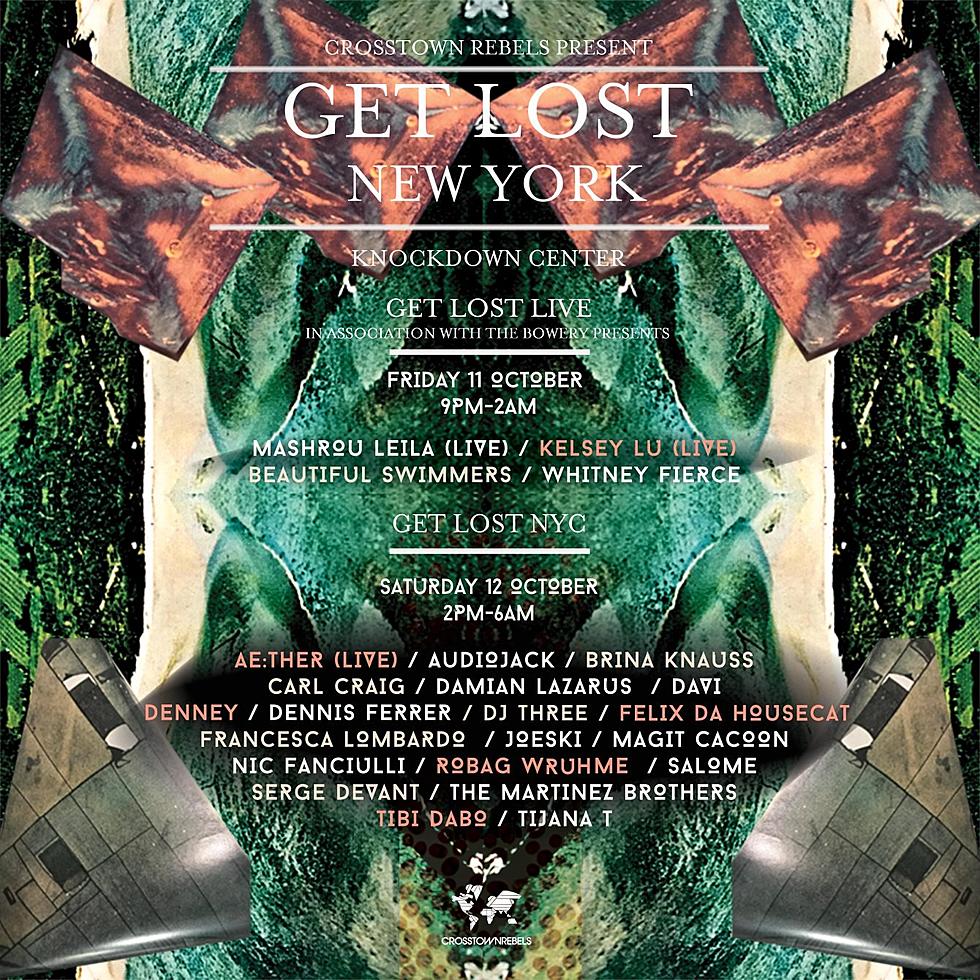 Kelsey Lu, Carl Craig, Robag Wruhme, Felix Da Housecat & more playing 2-day Get Lost NYC
Damian Lazarus is bringing his "Get Lost" party to NYC for a two-day event at Knockdown Center on October 11 & 12. Friday, 10/11 is "Get Lost Live" which, according to the press release, will be an "audio-visual experience aimed to redesign the way a live show is experienced" with the kind of "immersive theatrics" Lazarus' "Get Lost" parties are known for. It features performances by art pop cellist/singer Kelsey Lu and Lebanese indie dance band Mashrou' Leila, plus DJ sets from duo Beautiful Swimmers and Whitney Fierce.
Saturday, 10/12 is a 2 PM - 6 AM "multi-environment journey" featuring with music in four rooms as well as an outdoor celebration. The lineup is heavier on dance music than day one, with a live performance by Italian producer Ae:ther, plus DJ sets from Audiojack, techno icon Carl Craig, '90s NYC rave scene vet Joeski, German producer Robag Wruhme (whose new album is out on DJ Koze's Pampa label), Slovenian producer Brina Knauss, Tel Aviv-born, Berlin-based DJ/producer/vocalist Magit Cacoon, house/electro/electroclash producer Felix Da Housecat, Bronx duo The Martinez Brothers and more.
Tickets for Get Lost NYC, including single day and two-day passes, are on sale now. Check out the full two-day lineup, and stream Robag Wruhme's Venq Tolep album, below.
GET LOST NEW YORK LINEUP

Get Lost Live
Friday 11 October
9pm-2am
Mashrou' Leila (live)
Kelsey Lu (live)
Beautiful Swimmers
Whitney Fierce
Get Lost NYC
Saturday 12 October
2pm-6am
Ae:ther (live)
Audiojack
Brina Knauss
Carl Craig
Damian Lazarus
DAVI
Denney
Dennis Ferrer
DJ Three
Felix Da Housecat
Francesca Lombardo
Joeski
Magit Cacoon
Nic Fanciulli
Robag Wruhme
Salomé
Serge Devant
The Martinez Brothers
Tibi Dabo
Tijana T