Kevin Devine collaborated w/ Meredith Graves, Cymbals Eat Guitars, Matthew of Nada Surf, Tigers Jaw & more @ The Bell House (pics, videos)
PLUS: Watch Meredith play a new solo song backed by Joe from Cymbals Eat Guitars and Kevin Devine & the Goddamn Band
Meredith/Kevin/Joe, Kevin/Matthew, Kevin/Tigers Jaw

Kevin Devine was telling a story on stage at The Bell House last night (12/11) about instantly loving Tigers Jaw's music after Jon Simmons from Balance & Composure showed it to him in a car ride on tour. Talking about them, he said something to the effect of there being good and bad sides to being part of a scene. It was just a quick side note, but it resonated with me throughout the entire night because the show itself broke down barriers of several scenes. It was the first of three BV-presented release shows for Kevin's new Devinyl Splits series, and each artist he worked with was coming from a distinctly different "scene" but the whole show was one cohesive thing. It wasn't like Kevin just having a few bands he likes open for him either. It was set up like a variety show, with Kevin both opening and closing, and bringing a new guest out every few songs (sometimes more than one at a time). It kept the place packed from start to finish.
Along with Kevin and Tigers Jaw, the show had Brooklyn's folky, punky singer/songwriter Laura Stevenson (in solo acoustic folk mode last night), Meredith Graves from the hardcore band Perfect Pussy trying out some shoegazier material, the consistently solid indie rock band Cymbals Eat Guitars, and two veterans with notably different histories. There was Matthew Caws of Nada Surf, who were mainstream for a second in the mid-'90s but then started a fruitful indie career instead. And Mike Kinsella (aka Owen), who probably had way less fans in the mid-'90s but became legendary over time, and never stopped writing great music across several projects.
The first guest was Laura Stevenson, whose whole set was solo and included a cover of Elliott Smith's "Angel in the Snow." Then the next was Brianna Collins of Tigers Jaw, who sang harmonies with Kevin on his song "For Eugene." After that, her bandmate Ben Walsh came out and the two of them did "Teen Rocket" and "I Saw Water" acoustic. Then Kevin Devine & the Goddamn Band joined as their backing band for a cover of The Cure's "In Between Days" and a version of Tigers Jaw's "Cool" where Kevin sang lead on the last verse. (He released a cover of the song last month.) That Cure cover is the song Tigers Jaw contributed to their split with Kevin. His contribution was a cover of "Lovesong," which he played after Ben and Brianna left the stage.
Cymbals Eat Guitars

After an intermission, Cymbals Eat Guitars took the stage on their own for "Aerobed" off their split with Kevin, and two songs off last year's excellent LOSE. Theirs was the most like seeing a regular Cymbals Eat Guitar set (and great as always), even if it was just three songs. It wouldn't be the last time their singer Joe D'Agostino would be on stage, but more on that in a bit.
Another KD set followed, and then Kevin began telling a story of how great Mike Kinsella is and how when they toured together with Andy Hull in 2007, Mike didn't give a shit about a lot of the things musicians in his place normally would. (Unbeknownst to Kevin for the first half of the story, Mike was watching him say all this from backstage.) As anyone who's seen Owen knows, one thing he doesn't give a shit about is messing up his songs every now and then, which he did a few times last night. But it's always charming and never frustrating. Probably because, like last night, his sets are always gorgeous.
Up next was Perfect Pussy singer Meredith Graves. She was known mostly for short blasts of noise punk before her shoegazy solo song on her split with Kevin. She played that, and a new one that I thought sounded even better. She was belting her voice on that one more than I'd ever heard her do before, and it turns out she's a good singer! For both songs, she was backed by Kevin Devine & the Goddamn Band and Joe from Cymbal Eat Guitars, who created exactly the kind of wall of noise Meredith sounds best with.
Meredith and Joe left and KD&GDB stayed, eventually bringing out Kevin's wife Carey Brandenburg for "Lonesome Town" and then Nada Surf frontman Matthew Caws to duet with him on "Brooklyn Boy." Matthew then did Nada Surf's "Blizzard of '77" solo, and then played his cover of Kevin's "Fiscal Cliff" (that he recorded for their split). He told us how he was singing it to himself in the cab on the way to the show, and the driver was apparently moved by the lyrics. He wrapped up with Nada Surf's "Inside of Love" and "See These Bones," with Kevin joining him again.
Then to end the show, just like it started, was another set from Kevin Devine & the Goddamn Band. They gave us a ton of favorites from throughout Kevin's career over the course of the night -- "Ballgame," "Cotton Crush," "Another Bag of Bones," "Brother's Blood," etc -- and played a good amount off his newest album too. The guests made the night extra special, but it was also clear that it was Kevin's show and Kevin's crowd. Several songs had the crowd singing every single word in unison louder than Kevin even was.
The Devinyl Splits shows continue in Philly tonight (12/12) with Brand New's Jesse Lacey replacing Laura Stevenson, and then Cambridge on Sunday (12/13) with The Front Bottoms' Brian Sella. Cymbals Eat Guitars and Laura Stevenson play Brooklyn together again on Monday (12/14).
A video of Meredith's new song (with KD&GDB and Joe from CEG), some other clips from throughout the night, more pictures and the setlist, below...

---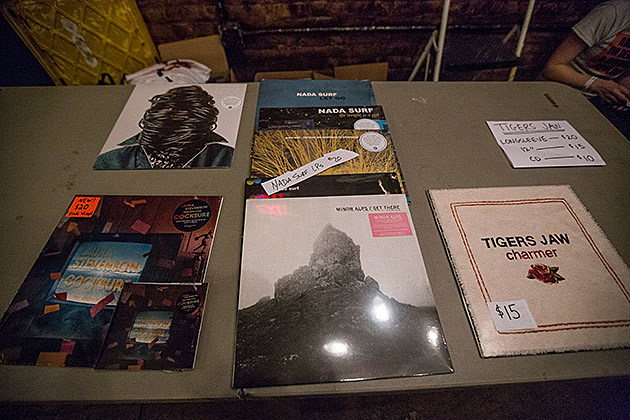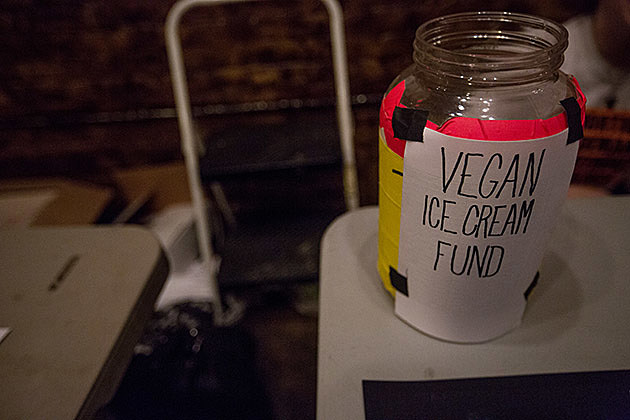 Kevin Devine and The Goddamn Band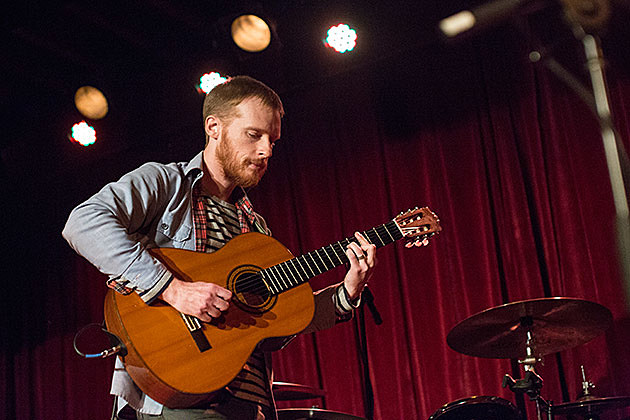 Brianna Collins & Ben Walsh of Tigers Jaw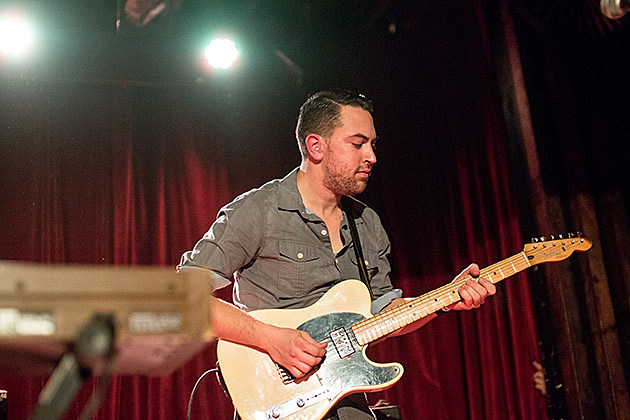 Mike Kinsella of American Football
Meredith Graves of Perfect Pussy with Joe D'Agostino of Cymbals Eat Guitars
Matthew Caws of Nada Surf
Setlist (via AJ Tobey)