Killdozer @ Fun Fun Fun Fest, Austin, TX – pics & setlist
"Killdozer are a three-piece band hailing from Madison, Wisconsin - the dairy state, of all places. Anyone who has ever seen them perform can bear witness to their awesome bombastic aural onslaught. Vocalist/bass player Michael Gerald innocently jerks thunderous pounding rhythms from his instrument, while letting forth a mighty roar perhaps more startling because of his otherwise unassuming stage presence. Flanked by Bill and Dan Hobson, on ear-splitting guitar and bone-jarring drums, Michael conveys vivid impersonations of the Great American Dream gone astray, exaggerating in no small detail the potential for existential adventure in the lifestyles of the everyday man. Not to be confused for some trend-kissing band of posing pseudo-intellectuals, Killdozer offsets their warm visions of reality with songs you may remember from your past, bringing you back to those fond memories of jaded youth." [The New Puritan]
Michael Gerald is a lawyer now, and he graduated NYU School of Law in 2001, at least that's what his LA law firm bio says... and is consistent with the NYU Law hat he was wearing when he first came on stage to a relatively small, but excited festival crowd. Is there a demand for Killdozer in 2008? I'm not sure it matters, or that the band would care, but it was kind of sad that the majority of the fest's crowd chose Trail of Dead who were playing at the same time on another stage. I found that out when I walked over to catch the end of Trail of Dead after Killdozer finished their set. Regardless, Killdozer (to quote myself) killed it.
Among other things (like telling the crowd to drink beer), Michael pointed out that they, Killdozer, a reunited band who (according to Wikipedia) were active from 1983-1996, are "old". Maybe that's what guitarist Bill Hobson was trying to disprove when, towards the end of the set, he climbed to the top of the scaffolding, played some guitar up there, climbed back down and then played some more guitar with his back on the stage - it was all part of the awesomeness that was the climatic ending of the set. As Austin Daze points out, "The trio left stage with amplifiers feeding back, and the crowd (including members of the headlining acts) screaming for more."
After the show I talked to drummer Dan (brother of Bill) Hobson who told me that Killdozer are not finished yet, and that they're even, though slowly, working on new material. Austin Daze also talked to the band. Their video interview, more pictures, and the setlist below...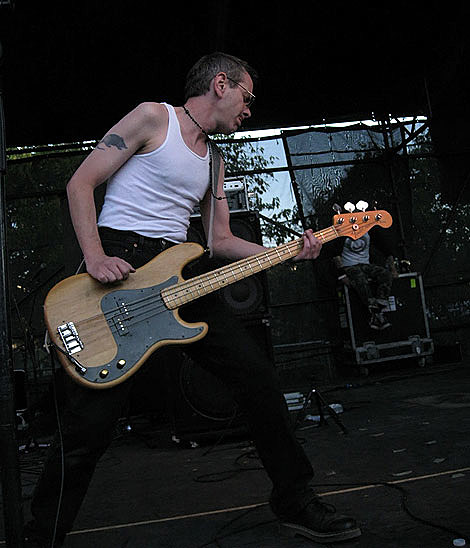 "Although the band never made it big in the traditional sense, they gained legendary status around the country for their thrashing dirges, growled vocals and deadpan humor. They were forerunners to grunge bands like Nirvana, counted Sonic Youth among their fans, and recorded all but their last two albums at Smart Studios with producer Butch Vig, years before Kurt Cobain set foot in the East Washington Avenue studio." [77Square]